Within Temptation Interview
Published in Station Updates, on Thursday, January 24th, 2019
Tune in to Primordial Radio on Thursday 24th January at 2pm to hear Pete chat with Sharon den Adel, Jeroen van Veen and Mike Coolen of Within Temptation !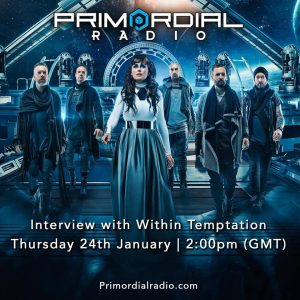 They talk about avoiding a breakup of the band with the new album Resist, stepping out of comfort zones to make the album and why they will never ever take part in Eurovision!
Not a member of Primordial Radio ? Why not give it a go , free, for 3 months, no credit card/no obligation/no nonsense
Sign Up Here
Primordial Radio playing the best and latest in Rock, Metal and Beyond music – Radio as it should be !