Coming to the Primordial Radio – AGM & Drinkin' in Lincoln ?
Primordial AGM / Drinkin' in Lincoln 2019 FAQ's
Please check back as the list is going to grow as we get closer to the event !
Hopefully you know all about the Primordial Radio AGM – if not check out the AGM page to see the bands playing, to order your tickets and don't forget our Just Rock UP glamping option !
So, down to the nitty-gritty …….
We've decided to cap at 1000 due to the need to move the stage forward this year for props, gear and our limits on being able to provide enough beer, food and not have insanely long queues for the above and toilet facilities.
It still remains the case that we likely won't sell out at 1000 people but this is a precautionary measure to make sure we can provide an amazing event for everyone.
Power Hookups and Just Rock Up Camping
Just Rock Up Camping and Electric Hookups for the Primordial Radio AGM 2019 go OFF sale at midnight this Easter Monday ! Have you ordered yours ?
When does the event begin?
People are welcome to arrive at the showground from 3pm on Friday 26th to begin setting up. The bars won't be open till 5 and music from 6. Full schedule below.
Please make sure you check in at the reception on arrival before heading straight to the campsite.
Please ensure you have your ticket info handy upon arrival to help speed things up and don't forget your Just Rock Up Deposit and remember  cash for those outlets not taking tokens.
If you are due to arrive after reception closes (9pm) please email Hollie@primordialradio.com so we can arrange a pick up for your wristband
As per the on-air announcements and the email (please check your spam/junk folders), there has been a delay on pre-order merch so if you asked for it to be POSTED, it may not arrive before the AGM.  If you wish to collect @ the AGM please reply to the email or contact support@primordialradio.com
Friday
Arrival from – 3:00pm
Bar Opens – 5:00pm
Reception Closes – 9:00pm
Bar Closes – 1:00am
Saturday
Reception Opens – 9:00am
AGM Presentation – 11:00am – 1:00pm
Blowfish – 1:00pm – 1:45pm
Doors – 5:00pm
Millie Manders & The Shutup – 5:20pm
Skarlett Riot – 6:20pm
Evil Scarecrow – 7:30pm
Massive Wagons – 9:20pm
Shorty DJ Set – 10:30pm
Curfew – 12:00am
Bar Closes – 1:00am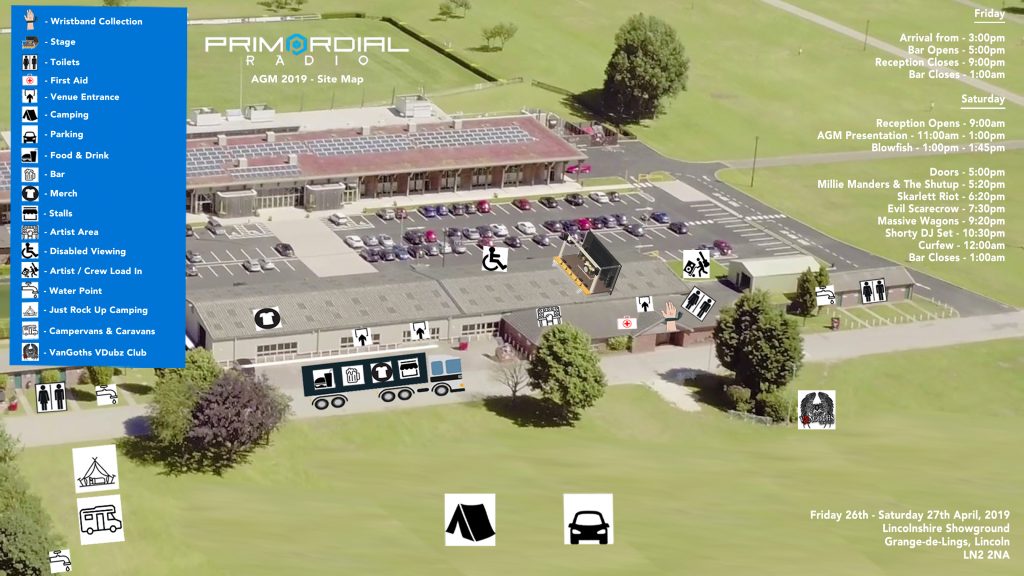 Can I arrive on Saturday instead of Friday?
Yes, the reception will be open from 9am on Saturday. Once again please make sure you check in here first before setting up in the campsite.
Can I bring my campervan/caravan?
Both are welcome but all we ask is that you let us know prior to arrival just so we're aware of numbers arriving.
Campsite Facilities available
There are toilet blocks with showers, drinking water points and power hookup available on request at an additional price.
Will there be recycling points?
There will be waste bins and recycling bins but we ask that you try and take home whatever waste/recycling you can and leave the camping area/venue as you found it in.
Can we make our own fire pit?
There are to be no open fires or fire pits as per the venue's regulations.
What happens if we aren't camping.
Once again you are welcome from 3 pm on the Friday. There will be a separate field for parking and you are welcome to keep it there for the weekend if getting taxis to hotels etc. Please arrive at the reception for tokens and t-shirts though.
Dogs are welcome but we simply ask that they are kept on a lead and in the camping area. There is plenty of space where you can walk your dogs but please make sure you tidy up after them as well.
Dog's are allowed in the Just Rock Up tents on the premise that they are well behaved, sleep on their own bed and that you are liable to pay for any damages caused.
Can I pay for my ticket when I arrive?
Anyone is welcome to pay on the day but please be aware that the ticket price will be £30 as per last year.
If you have any accessibility needs them please make them known to hollie@primordialradio.com and we will try to help as best we can. The main event area is on a level, hard standing ground except for the camping area which will be on grass. There will be a viewing platform inside the stage space so do let us know if you would like to make use of this.
Can we bring our own food and drink?
You are welcome to bring your own supplies but we just ask that you keep it to your camping area and respect the event and vendors there.
Please don't drink your own beer within the bar/hall/merch areas and please try and keep the amount of glass on site to a minimum.
Respect the Primordial Rules.
Only Gas or Solid Fuel (hex block style) cooking equipment please (No petrol, charcoal,wood, disposable BBQ)
How do we pay for food/drink/merch?
You will be able to buy drinks tokens and merch by cash or card. The food vendors vary between cash and card, this will be listed on the website. There won't be any cash points on site though.
Age Restrictions/Valid ID
There is no age restriction for the weekend but all children under the age of 18 must be accompanied by a parent/guardian. The bars will run the Challenge 21 Policy so if you are wanting to purchase alcohol please make sure you have a valid photo ID with you. The licencing accounts for the entire venue so if anyone is found underage drinking anywhere on site then they may be asked to leave.
Food available at Drinkin in Lincoln 2019
This year we will have a couple of options of food available over the weekend. All of them will be present for the Friday and Saturday.
The Pattie Shack

Breakfast (Available Saturday and Sunday morning)
Lunch/Dinner
A range of Hull patties;

Sage (Vegan)
Cheese and Onion
Bacon and Black Pudding
All of which can be made Gluten Free to order

Chips
Burgers (Vegan options available)
Spitroast sandwiches (Only available on Saturday)
VW Crepes

Cash and card payments
Offers a range of sweet and savoury crepes.
Payment
All stalls except for the bars will be taking payment individually. So please note whether they accept cash or card payments.
Fine print
As you can see, we have some GF, Vegetarian and Vegan options available but if you have any other allergies or dietary requirements then please make them known to all the providers on the day and feel free to bring your own food if you deem it necessary. All we ask is that you keep all your own food to the camping area and be respectful to the event itself and the vendors present.
Can I help out at the AGM/Drinkin' in Lincoln ?
If you could just pop over here and stick your info in Blunty's Digital Volunteer Form so we can get a list of folks that will be willing to help it would be great !
Thank you
Not got the answer to your question ? Please contact hollie@primordialradio.com with your queries (Social Media is not the definitive answer – Hollie is !)