AGM 2020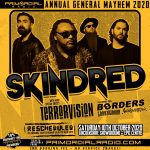 Primordial Radio is very proud to announce Newport ragga-punk-metallers SKINDRED as headliners for the Annual General Mayhem 2020. With a reputation as one of the UK's most formidable live acts by rocking the world's biggest stages, the Newport destroyers have been a perennial force for musical invention and remorseless positivity which they'll be bringing to the Lincolnshire Showground on Saturday 10th October 2020.
TERRORVISION will be our very special guests on the night, born in 1988 out of the remnants of a glam rock mess called Spoilt Brats, an amalgamation of art school buddies Mark Yates and Leigh Marklew, drumming loon Shutty and long-haired urchin Tony Wright. They recently celebrated the 25th anniversary of their biggest album How to make friends and influence people during a sold-out tour in May 2019.
Support on the night will be coming from BORDERS, hailing locally from Lincoln they have been pushing to lead in a new era of heavy music by seamlessly blending genres and styles to forge a crushing yet melodic and unique experience. Also joining the bill is HANDS OFF GRETEL, a sassy alt rock/grunge pop band from South Yorkshire, who have built themselves a solid live reputation, for high energy shows that are musically dynamic and visually compelling. CARRY THE CROWN will be opening the show, known for their thrilling stage performances, they bring their catchy and anthemic sounds and mix them with a stage show that the crowds love.
Grab your 10% DISCOUNT off the ticket by signing up to a 3-month FREE membership.
*UPDATE*
Due to the ongoing situation in relation to the Coronavirus disease (COVID-19) we must sadly confirm the postponement of the Annual General Mayhem 2020.
As we've always maintained, just because we make light of things doesn't mean we take them lightly, the health and safety of our members is of paramount importance to us before anything else and we advise everyone to follow all the necessary guidelines from the public health officials.
The re-scheduled date for the AGM 2020 will be Saturday 10th October at the Lincolnshire Showground.
All purchases for the original date will be honoured and if you are unable to attend the new date, you can find details on how to claim a refund at – http://primordialradio.com/agmrefund
For all FAQ's please head to – https://primordialradio.com/agm-2020-faq/
Tickets are currently off sale due to the postponement of the AGM.
We're so pleased to have kept the bill exactly the same as it is with Skindred, Terrorvision, Borders, Hands Off Gretel and Carry The Crown all confirmed for the re-schedule. Massive shout out to all of them for reworking their plans to play the AGM.
Thank you for your continued support of Primordial Radio, without you we wouldn't be here, and we look forward to seeing you in October.
– The Primordial Radio Team