Primordial Radio AGM - Drinkin' In Lincoln
27th April 2019 the Lincolnshire Showground welcomes us back for our Primordial Radio AGM.
After having so much fun last year, Massive Wagons will be back with us to play Full Nelson in full. Joining Wagons as co-headliners are station favourites Evil Scarecrow, be ready to get your scuttle on. As well as our two co-headliners we have a couple of amazing support bands. First up are local-ish band Skarlett Riot and opening the show will be some ska punk from Millie Manders and the Shutup. The line-up is now complete….or is it?
We are excited to announce our new option for camping Just Rock Up, take advantage of just arriving at the Lincolnshire Showground and have your home for the weekend waiting for you!
The  Primordial Radio "Just Rock Up" Glamping experience works out at under £34 per person per night – based on a 5m cloud bell with that sleeps 6 people, over 2 nights
If you are not already a member you can get 10% of the price of the ticket by signing up for a 30 day free trial, no strings attached.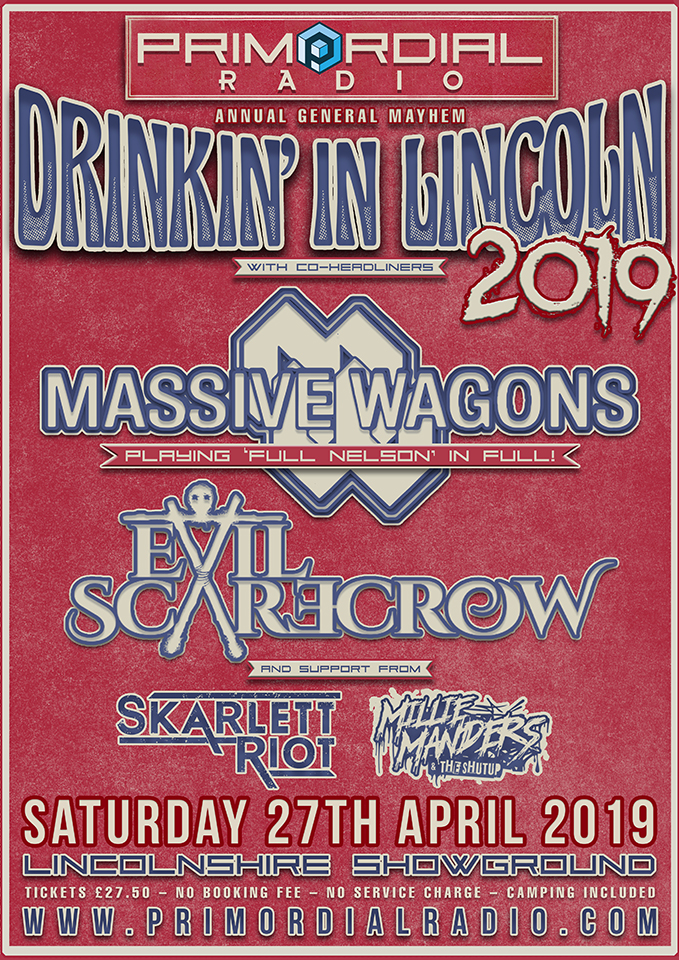 Got questions ? See if they are in the Primordial Radio AGM FAQ

Hey there, it looks like you are not subscribed to Primordial Radio. Did you know you get 10% off this lovely merch if you sign up. You can register for a 30 day free trial here. If your subscription has expired you can sign up here.