Stage Times – Friday & Saturday (Click on picture for hi-res version)
After two years of waiting, the Primordial Radio AGM is finally here and we've no doubt it's going to be worth the wait – here is the lowdown on what to expect.
ANNOUNCEMENT – In case you missed it… We are very excited to announce that Millie Manders will be performing a very special acoustic set for us on our Bar Stage on Saturday 18th September at 2:00pm. Millie performed an outstanding set for us at the AGM in 2019 and was our number 01 Up-Voted artist in 2020, it's an honour to have her back and we can't wait for what will be a very special set.
Please find below our stage times and schedules for Friday 17th September and Saturday 18th September.
Tickets – Your digital ticket will be sent to the email address you purchased with on Thursday 9th September. With two-year-old tickets & emails, we wanted to get things right before sending out tickets again, we appreciate your patience. Any previous tickets you received will not be valid, you will need the new ticket. Please make sure to check your spam / junk folders if you have not received your ticket.
If you haven't purchased a ticket yet, we only have 50 tickets available, you can grab the last few remaining tickets – Here
Site Map (Click on picture for hi-res version)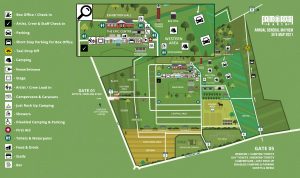 Venue Address & Arrival
*PLEASE NOTE* All ticket holders will need to arrive through GATE 5 and head towards the BOX OFFICE at SITE ENTRANCE G. Box Office hours are 15:00 – 21:00 on Friday and 09:00 – 21:35 on Saturday.
Address:
The Epic Centre
Lincolnshire Showground
Grange-de-Lings
Lincoln
LN2 2NA
Taxi's
Please find below the taxi firms we recommend as well as a link to a list of cab firms from The Lincolnite, we also recommend booking your journey 24 hours in advance and please make sure your cab driver is aware you need to be dropped off and picked up at GATE 5 – SITE ENTRANCE G.  
Direct Cars
T: 01522 567 567 | W: https://www.directcars-lincoln.co.uk/
Handsome Cabs
T: 01522 545 352 | W: http://www.handsomecabs.co.uk
Taxis Lincoln (Online Booking Service / Directory)
W: https://www.taxislincoln.co.uk/
The Lincolnite Taxi List
https://thelincolnite.co.uk/taxi-lincoln/
Bar
Our good friends at Tom's Tap & Brewhouse are back for the AGM and Brewmeister Sean Ayling assures us he will be bringing the best batch of Primordial Süp that has ever been made… In addition to Tom's Tap & Brewhouse, we're very happy to say that Ascension Cider will also be with us again, remember to go easy on those Mango Ciders!
We're also very excited to announce that in addition to being able to order at the bar, you can order a drink straight from your phone and then simply pick it up at the collection point.
How does this work?
Step 1 – Set up a Good Eats account – Here
Step 2 – Head to the AGM Drinks Menu – Here
Step 3 – Place your order
Step 4 – Check your email for confirmation, receipt, and order no.
Step 5 – Show your email at the collection point, take your drinks, and enjoy 😊
*PLEASE NOTE* We will be running a challenge 25 policy, so if you're lucky enough to look under 25, we will be asking you for I.D at the collection point to prove you are 18+.
Food Vendors
We're delighted to have a variety of high-quality food vendors at the AGM this year who will be keeping us fed and energized, please find below links to their menus and Facebook Pages.
Icarus & Apollo (Vegan)
MENU | Facebook
We're delighted to announce that we have found a vegan vendor and a huge shout out to Icarus & Apollo for stepping in last minute. They will be arriving on Saturday with our other vendors offering a vegan option to cover Friday which you can find below. Massive shout out to all the vendors for helping out!
Chez Sebastion Artisan Pizzas (Pizza)
MENU | Facebook
Vegan Pizza Available
Bails Barista (Coffee & Tea)
MENU | Facebook
The Sunshine Street Food Company (Afro-Caribbean, Wraps, Rice Dishes & Curry)
MENU | Facebook
Vegan Curry Available
VW Crepes (Sweet & Savory Crepes)
Facebook
Jacket Potatoes with Vegan Fillings Available
Oakley's Grill (Breakfast, Burgers, Hotdogs & Cheesecakes)
MENU | Facebook
Vegan Bean Burgers, Loaded Fries and Pizza Available.
Firehouse Kebab & Grill (Breakfast, Coffee, Burgers & Chips etc)
Facebook
Stallholders
We love them and think you will love them too! We're very pleased to welcome our stallholders to the AGM this year.
Heavy Metal Therapy
Heavy metal therapy is an online resource and community of people who find metal music helpful for mental well-being. It is a place to find and share experiences of how metal has helped us, the meaning we take from songs or lyrics, and playlists that we have found useful.
Patch Amnesty
Patch Amnesty is a charity fundraising project set up in April 2019 by Michael Lacy. Having had leftover patches from his own project, he decided to ask around to see if other people had spare patches and if they would be willing to donate them to then sell them at music festivals/events to raise money and awareness for Mental Health charities.
The Sophie Lancaster Foundation
Sophie Lancaster was a young woman who was murdered for being different. She and her boyfriend were creative, artistic people who dressed in their own unique way. They were attacked by a gang of five boys in a park in Bacup, Lancashire on 11 August 2007. The gang attacked Sophie's boyfriend first and then turned on her, carrying out a brutal and sustained attack. Sophie remained in hospital for 13 days, before following medical advice, the family agreed to life support being switched off. Sophie died on 24 August 2007; she was just 20 years old.
The Sophie Lancaster Foundation was established as a lasting legacy to a beautiful life cut short by violence. The Foundation's mission to stamp out prejudice hatred and intolerance everywhere can be summed up in one word – S.O.P.H.I.E.
Alleway's Confectionary
Vegan confectioners based in Digbeth, Birmingham. Offering vegan sweets & treats across the UK including a wide range of gluten-free options.
Mojo Rox
Hand made unique items for you and your home.
Covid-19
A friendly reminder… Primordial Radio takes Covid-19 safety measures very seriously and your support and co-operation is very much appreciated.
All attendees aged 12 and over will be asked to demonstrate their COVID-19 Status before entering the venue by providing either a:  NHS Covid Pass OR Negative Lateral Flow Test OR Proof of Natural Immunity to receive their accreditation pass. Your Covid status will be verified at the Box Office, after which you will receive your wristband and be able to head into the arena.
To help keep the AGM as safe as possible, we will be implementing these measures:
Increased ventilation across the whole venue
Regular check-ins with all staff to make sure they are well and not displaying symptoms
Hand sanitizing stations throughout the site and backstage areas for all public and staff
Regular cleaning of toilets, bars, barrier, work services, sides, and merch area
Track & Trace available on site
Disposable face masks available on site
Encourage card payments over cash
Use of single-use cups, plates, and cutlery only
Regular waste disposal and cleaning
Encouraged use of hand sanitizer across the weekend
For more information on our Covid Policy & Measures, click – Here
For all other FAQ's please click – Here
Thank you for reading this information and after over two years of waiting to make this happen, we can't wait to see you and host what we're sure will be the greatest show known in the history of mankind.
If you still need assistance, you can either email us at support@primordialradio.com or head to primordialradio.com/support.
– The Primordial Radio Team