Published in Station Updates, on Wednesday, April 17th, 2019
Time flies like the wind…..(*)
ohhhh…..it's getting closer, everybody got their AGM tickets ?
Fresh off the press, some extra AGM info for you…..
Late Arrivals – if you are due to arrive after reception closes (9pm) please email Hollie@primrodialradio.com so we can arrange a pick up for your wristband
Pre Order Merch  – as per the on-air annoucements and the email (please check your spam/junk), there has been a delay on pre-order merch so if you asked for it to be POSTED, it may not arrive before the AGM.  If you wish to collect @ the AGM please reply to the email or contact support@primordialradio.com
Please ensure you have your ticket info handy upon arrival to help speed things up and don't forget your Just Rock Up Deposit and remember  cash for those outlets not taking tokens.
Timings are currently confirmed as
Friday
Arrival from – 3:00pm
Bar Opens – 5:00pm
Reception Closes – 9:00pm
Bar Closes – 1:00am
Saturday
Reception Opens – 9:00am
AGM Presentation – 11:00am – 1:00pm
Blowfish – 1:00pm – 1:45pm
Doors – 5:00pm
Millie Manders & The Shutup – 5:20pm
Skarlett Riot – 6:20pm
Evil Scarecrow – 7:30pm
Massive Wagons – 9:20pm
Shorty DJ Set – 10:30pm
Curfew – 12:00am
Bar Closes – 1:00am
Site Plan for Primordial Radio AGM 2019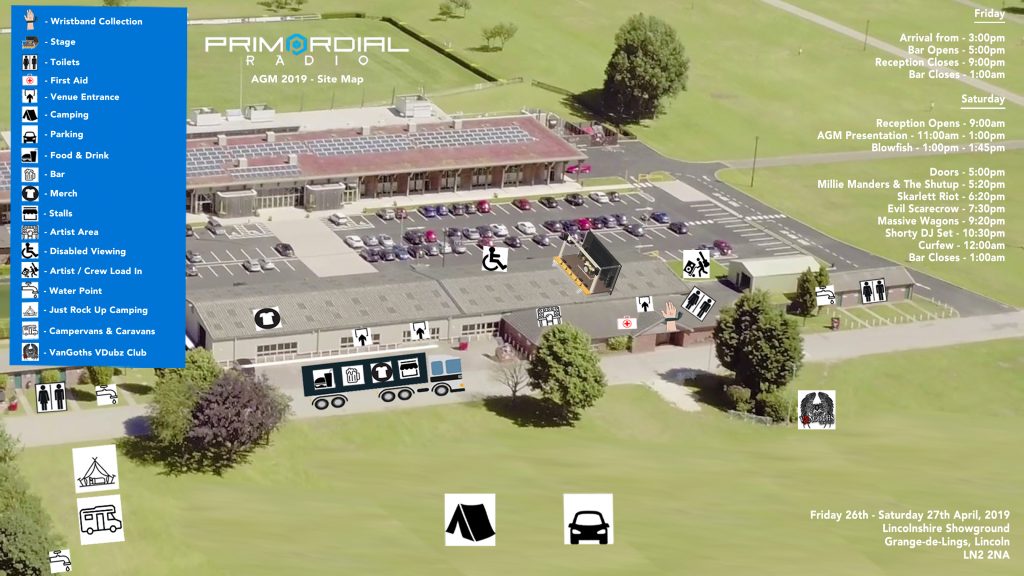 Questions not answered ? Please check the FAQ
* fruit flies like banana's
Not a member of Primordial Radio ? Why not give it a go , free, for 3 months, no credit card/no obligation/no nonsense
Sign Up Here
Primordial Radio playing the best and latest in Rock, Metal and Beyond music – Radio as it should be !