ménage à trois ? Big Bang 3 tickets on sale
Published in #prfam, Station Updates, on Monday, July 22nd, 2019
Back for a 3rd time !
A sort of Birthday/good excuse for everyone to get together for a few beers and a catchup after the madness of the Rock and Metal Music Festivals in the summer. Organised by Mark Manby and hosted by OGRI MCC, everyone is welcome to pop along, have a drink, watch some bands and sit round the bonfire till the wee small hours……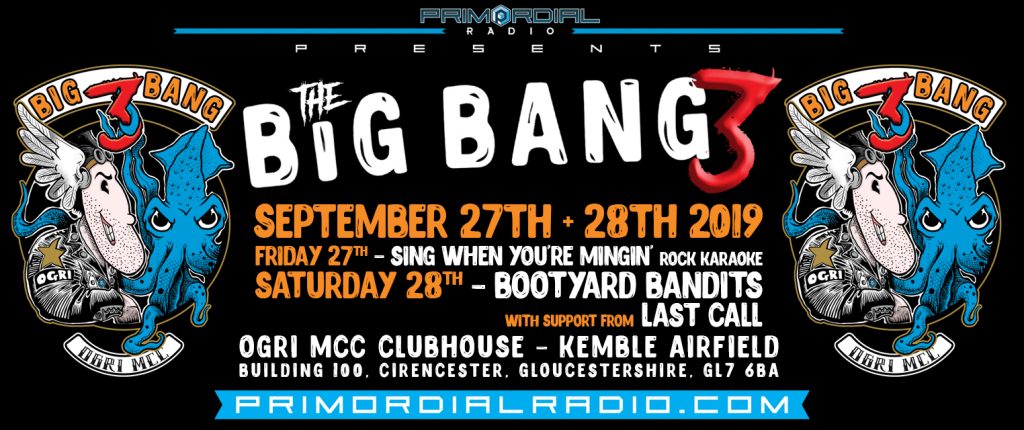 Taking place 27 & 28th September at OGRI MCC, near Cirencester
Friday – turn up from 12:00 onwards, get your tent/camper/yurt setup and have brew/beer and a catch up with old friends and maybe make some new ones! A new thing for Friday is a "Sing While You're Mingin'" Rock Karaoke.
Saturday more of the same with extra tunes from the bands headlining are the Bootyard Bandits with 'Last Call' in support
Spike is back with the Victory Snack bar to make sure you are suitably fed over the weekend and the OGRI bonfire will be keeping you toasty into the wee small hours. Sorry no fireworks this year due to #reasons (not OGRI's fault!)
Camping Included – No Booking Fee

Podcasts from the previous Big Bang events are available here
Not a member of Primordial Radio ? Why not give it a go , free, for 3 months, no credit card/no obligation/no nonsense
Sign Up Here
Primordial Radio playing the best and latest in Rock, Metal and Beyond music – Radio as it should be !