Download Festival has announced Bring Me The Horizon, Metallica (x2) and Slipknot as its headliners for the 2023 lineup celebrating the 20th anniversary of the festival.
Also announced to appear at Donington Park in 2023 is Alexisonfire, Architects, The Distillers, Disturbed, Evanescence, Ghost, I Prevail, Parkway Drive, Pendulum, Placebo, Simple Plan, Ville Valo, Within Temptation and more. Full lineup below.
Download Festival 2023 Lineup So Far
Headliners
BRING ME THE HORIZON (Friday)
METALLICA (Thursday & Saturday)
SLIPKNOT (Sunday)
ALEXISONFIRE
ARCHITECTS
AS DECEMBER FALLS
ASKING ALEXANDRIA
AVIVA
BAMBIE THUG
BEAUTY SCHOOL DROPOUT
BEHEMOTH
BLACKGOLD
BLIND CHANNEL
BLOODYWOOD
BRUTUS
CRASHFACE
CRAWLERS
DEAD SARA
DISTURBED
ELVANA
ENOLA GAY
EVANESCENCE
FEVER 333
FIXATION
GHOST
GRAPHIC NATURE
GWAR
HAWXX
INGESTED
I PREVAIL
JAZMIN BEAN
KID BOOKIE
KID KAPICHI
LAKE MALICE
LORNA SHORE
MOD SUN
MONUMENTS
MOTIONLESS IN WHITE
MUNICIPAL WASTE
NOTHING, NOWHERE.
NOVA TWINS
PARKWAY DRIVE
PENDULUM
PLACEBO
POLARIS
PUPIL SLICER
SEETHER
SIM
SIMPLE PLAN
SOEN
SOUL GLO
STAND ATLANTIC
SET IT OFF
STRAY FROM THE PATH
TAYLOR ACORN
TERROR
THE BLACKOUT
THE DISTILLERS
THE MEFFS
THREE DAYS GRACE
TOUCHÉ AMORÉ
VV
WITCH FEVER
WITHIN TEMPTATION
Download Festival Tickets
June 2023
08 – 11 – Donington Park, UK
Primordial Radio is supported by the community we serve. When you buy through links on our site, we may earn an affiliate commission.
For our full list of affiliates, head here.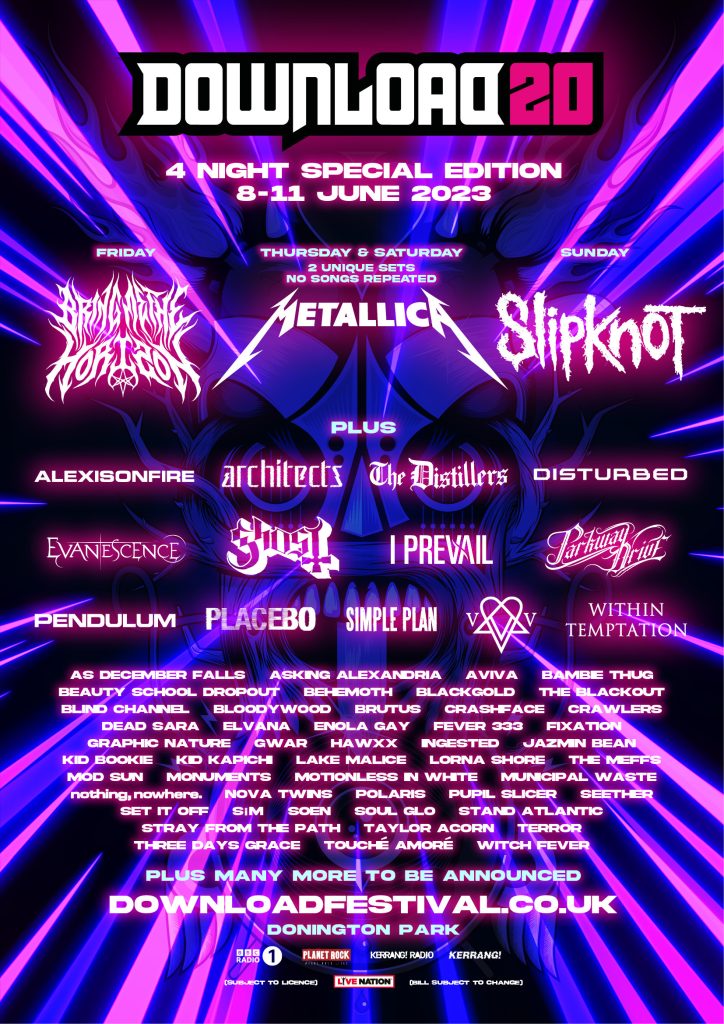 Download Festival's Andy Copping said:

This year marks a huge milestone for Download, celebrating the incredible 20 years of the festival is no small feat. We really wanted to up the ante for this special anniversary, adding an extra day for the fans to experience the unforgettable lineup, that once again brings together unparalleled talent from the rock music world back to Donington Park!"
Get Primordial Premium
30 Days Free. No Auto-Renewal. No Credit Card Needed.
- 24/7 Rock & Metal Radio Station
- No Adverts
- Exclusive Merch & Discounts
- Exclusive Articles & Podcasts
- Thriving Community