WAAAAGOOOOOONNNSSSSS!! Fresh from their incredible set at Download Festival 2022, Massive Wagons are back with new music!
Tune in to the breakfast show on Primordial Radio with Full Metal Hackett on Thursday 7th July 2022 at 08:00am (BST) to hear the exclusive premiere of the un-edited version of 'Fuck The Haters'.
Written as a supportive rallying cry for those who have been affected by any form of bullying, front-man Baz sums up the spirit of "Fuck The Haters":
"Simple song, simple message: fuck the haters, fuck 'em all. Do what you want, wear what you want, be who you want to be and be proud about it.

I know this kind of thing has been covered in songs before, but I wanted to strip it back to its most basic, powerful form. Yeah, swearing ain't for everyone, but sometimes you just got to stand up and let rip! #STOPBULLYING #FUCKTHEHATERS"
Thankfully, swearing is for us here at Primordial Radio, tune in this Thursday to hear "Fuck The Haters" in all its unedited glory!
Massive Wagons recently announced they will be heading out on a co-headlining tour with Ugly Kid Joe.
Grab your tickets to see Massive Wagons & Ugly Kid Joe
November 2022
03 – 02 Academy, Liverpool
04 – Rock City, Nottingham
06 – O2 Shepherds Bush Empire, London
08 – The Garage, Glasgow
10 – 02 Academy, Sheffield
11 – KK's Steel Mill, Wolverhampton
---
Massive Wagons initially built a strong early following in the north of England, blending together their love of rock'n'roll with an unfiltered sense of fun. Borne out of Adam Thistlethwaite and Baz Mills' time playing in a covers band, the pair recruited Adam's younger brother Alex and longtime friends Adam 'Bowzer' Bouskill and Carl Cochrane, setting about to write fast and frivolous heavy metal.
In 2020, the band released their second album House Of Noise through Earache Records and their fifth in total. The album was produced by Colin Richardson and Chris Clancy at Backstage Studio and went on to be a huge success, landing at No.9 on the Official UK Album Charts, propelling the band to huge tours with the likes of Thunder, Lynyrd Skynyrd and The Darkness.
We caught up with front-man Baz Mills at Download Festival 2022, watch below:
Get Primordial Premium – 24/7 Rock & Metal Radio
No Adverts. 30 Days Free. No Auto-Renewal. No Credit Card Needed.
---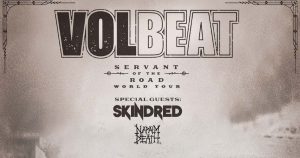 Links in this article may contain affiliate links where Primordial Radio receives a commission if you make a purchase through these links. For our full list of affiliates, head here.