HOLDING ABSENCE have been added to the bill for this years 2000 Trees Festival, in a statement on the bands Facebook, they said:
The cat is out of the bag – unfortunately, No Devotion are no longer able to perform, but 2000 Trees Festival have asked us to jump in at the last minute and fill their slot. We absolutely love 2000 Trees Festival, and some of the most special moments in our bands history have happened there.

We would have been attending as fans anyways as the lineup is fantastic, so we are more than grateful to have been asked to help out!

See you on Thursday on the Axiom Stage!
2000trees is a 15,000-capacity music festival set in the rolling Cotswold Hills. You'll get 3 nights camping and a friendly, intimate atmosphere – plus amazing food and locally produced ciders, ales & lagers.
Founded in October 2006, 2000trees was created by 6 music fans tired of overpriced mainstream events that care more about profits than people. Music festival veterans themselves after attending all the main industry events over a decade, James, Rob, Andy, Brendan, Mark and Si decided that they could do it better themselves.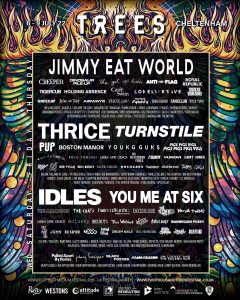 Grab your tickets to 2000 Trees Festival
July
06 – 09 – Cheltenham, Upcote Farm
---
Holding Absence and Alpha Wolf recently announced a split EP titled 'The Lost & The Longing', due for release on 15th August via SharpTone Records (ROW) and Greyscale Records (Australia and New Zealand). The EP includes four new tracks, two of which feature collaborations between both bands.
We caught up with frontman Lucas Woodland all about the EP and more at this year's Download Festival.
Get Primordial Premium – 24/7 Rock & Metal Radio
No Adverts. 30 Days Free. No Auto-Renewal. No Credit Card Needed.
---