Lockdown All-Dayer on Primordial Radio
Published in Gigs & Events, Station Updates, on Monday, May 4th, 2020
Primordial Radio Announces The Lockdown All Dayer
Raising Money For NHS Charities Together
Primordial Radio is very proud to announce it will be holding a virtual all dayer on Saturday 9th May raising money for NHS Charities Together.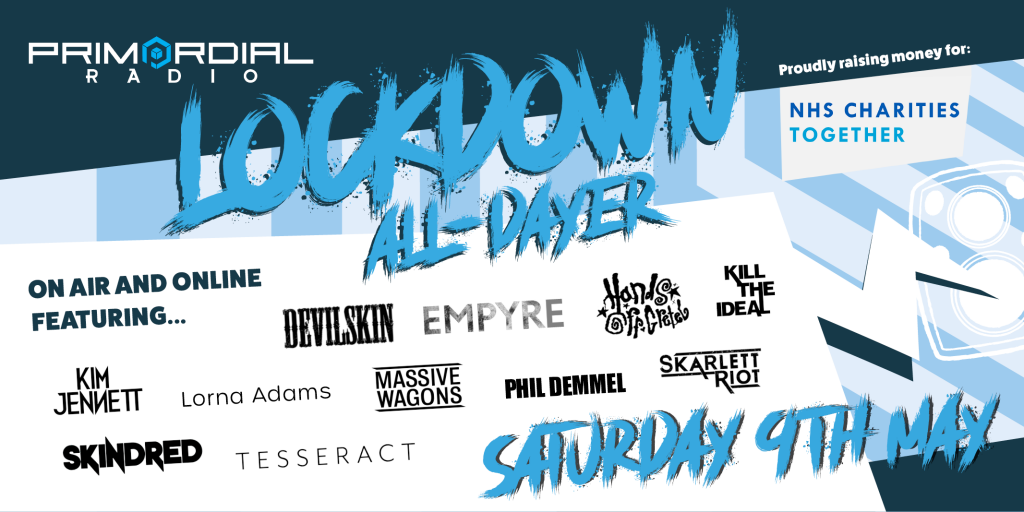 The online event will feature takeover shows, live interviews, acoustic sessions, cooking show, guitar workshop, presenter & member shows and a live quiz – The Inkquizition
Confirmed Guest appearances include :
Bill Courage (Voice-Over) Radio Takeover
Crofty (Sky Sports F1 Commentator) Radio Takeover
Devilskin Radio Takeover
Empyre Live Session & Interview
Hands Off Gretel Live Session & Interview
Headbangers Kitchen Live Cooking Show
Kill The Ideal Radio Takeover
Kim Jennett Live Session & Interview
Lorna Adams Live Session & Interview
Massive Wagons Radio Takeover
Phil Demmell Radio Takeover
TesseracT Live Guitar Workshop
Skarlett Riot Radio Takeover
Skindred Radio Takeover
Radio takeovers will be on-air at primordialradio.com with live sessions, workshop and cooking show being broadcast on social media via Primordial Radio's Facebook, YouTube, Twitter and Twitch.
Full schedule available at – http://primordialradio.com/lockdownalldayer and donations will be open on the day at http://primordialradio.com/nhs
Primordial Radio's Music Director Pete Bailey –
"Throughout this pandemic, we've all been tested and challenged in ways that seemed unthinkable just a few months ago. With the NHS being on the frontline the bravery, courage, love and support they have shown has been awe-inspiring. With that in mind, we wanted to play our role to support the NHS as much as we possibly can and look forward to seeing you virtually on Saturday 9th May 2020!"
Not a member of Primordial Radio ? Why not give it a go , free, for 3 months, no credit card/no obligation/no nonsense
Sign Up Here
Primordial Radio playing the best and latest in Rock, Metal and Beyond music – Radio as it should be !