San Francisco Bay Area metal masters MACHINE HEAD have released a new track, "UNHALLØWED", along with an accompanying music video. The track is taken from the band's tenth studio album, "Of Kingdom And Crown", which will be released on August 26 via Nuclear Blast/Imperium Recordings.
Set in a futuristic wasteland where the sky is always crimson red, ØF KINGDØM AND CRØWN tells the tale of two characters, both faced with incalculable trauma, whose stories become bloodily entwined as this deep, dark record progresses.
"The album and concept was loosely inspired by the Japanese anime series Attack On Titan," says Robb, "in the sense that in that series, there is no "good" or "bad" guy… both sides believe they're doing the right thing, but both are committing atrocities and evil."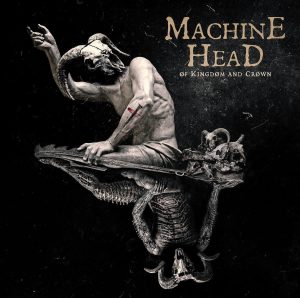 "Of Kingdom And Crown" track listing:
01. Slaughter The Martyr
02. Choke On The Ashes Of Your Hate
03. Become The Firestorm
04. Overdose
05. My Hands Are Empty
06. Unhallowed
07. Assimilate
08. Kill Thy Enemies
09. No Gods, No Masters
10. Bloodshot
11. Rotten
12. Terminus
13. Arrows In Words From The Sky
Digipak CD bonus tracks:
14. Exteroception *
15. Arrows In Words From The Sky (acoustic)*
Machine Head will be touring the UK & Ireland in 2022.
Electric Happy Hour (Machine Head Warm-Up Dates)
⁠
August
31st – Glasgow, Garage – SOLD OUT
⁠
September
02nd Inverness, Ironworks ⁠
04th Aberdeen, Lemontree⁠ – SOLD OUT
05th Dundee, Fat Sams⁠
06th Edinburgh, Liquid Room – SOLD OUT
⁠
Vikings & Lionhearts Tour 2022 with Amon Amarth
⁠
September
08th Nottingham, Arena⁠
09th Cardiff, Arena⁠
10th London, Wembley Arena⁠
12th Manchester, Arena⁠
13th Dublin, 3 Arena⁠
---
Get Primordial Premium
24/7 Rock & Metal Radio

No Adverts. 30 Days Free. No Auto-Renewal. No Credit Card Needed.
---