First of all, there's a Tony Hawk's Soundtrack cover band?!? Amazing. They're called "The 900" and recently performed at Signature Brew in London when none other than skateboarding legend Tony Hawk himself decided to drop in and sing Goldfinger's "Superman" with the band live on stage.
Watch below:
Get Primordial Premium
30 Days Free. No Auto-Renewal. No Credit Card Needed.
– 24/7 Radio Station
– No Ad-Breaks
– Exclusive Discounts On Gigs & Merch
– On-Demand Shows & Podcasts
– Thriving Community
Hawk greeted the crowd saying:
What's up, London? How are ya? You guys having fun? How good are these guys? This is amazing. Thank you. Okay, okay, jeez. No pressure.

I want to thank you all for coming out, and I want to thank these guys. It's such an honour that there's even a cover band for the songs in our games.

I had to join the party. Enjoy. Here we go, you might know this song.
Tony Hawk's Pro Skater, released as Tony Hawk's Skateboarding in the UK, Australia, New Zealand and parts of Europe, is a skateboarding video game developed by Neversoft and published by Activision. It was released for the PlayStation on September 29, 1999, and was met with critical acclaim.
The game served as a gateway to many of the bands featured on the soundtrack such as Dead Kennedys, Millencolin, Lagwagon, Papa Roach and more.
Listen to the soundtrack below via Spotify.
---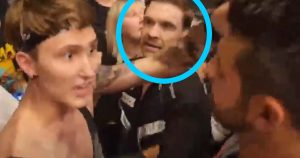 Links in this article may contain affiliate links where Primordial Radio receives a commission if you make a purchase through these links.
For our full list of affiliates, head here.