Shinedown frontman Brent Smith recently stopped the band's concert in Ontario, Canada on July 22 and went into the crowd to break up a fight.
During the incident, Smith jumped into the crowd to warn the aggressor to back off and calm down, before inviting the alleged victim to join the band side of the stage to watch the rest of the show.
Watch below:
Get Primordial Premium
30 Days Free. No Auto-Renewal. No Credit Card Needed.
– 24/7 Radio Station
– No Ad-Breaks
– Exclusive Discounts On Gigs & Merch
– On-Demand Shows & Podcasts
– Thriving Community
Shinedown is currently touring Canada with special guests Pop Evil and Ayron Jones. The band is promoting its latest album, "Planet Zero" which was released on July 1 and landed in at No.4 in the Official UK Album Charts.
As an album, Planet Zero serves up an incisive look at the issues at hand: cancel culture run rampant, the corrosive effects of social media on mental health and society, and the increasingly toxic division among those of differing ideologies.
Grab Your Tickets To See Shinedown In 2022
November
26 – Cardiff, Motorpoint Arena
27 – Manchester, 02 Apollo
29 – Nottingham, MotorpointArena
30 – Glasgow, 02 Academy
December
01 – London, OVO Wembley Arena
We recently caught up with Shinedown frontman Brent Smith talking all about the new album Planet Zero and how the world around him very much influenced the writing for the record.
Watch below:
---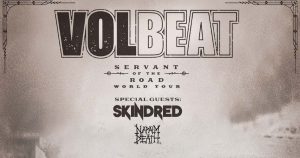 Links in this article may contain affiliate links where Primordial Radio receives a commission if you make a purchase through these links.
For our full list of affiliates, head here.