There's nothing quite like a "Secret Set" to get the rumour mill going into overdrive at a festival. Step up Bloodstock Festival 2022, they've been teasing for some time now there will be a secret set, which is due to take place on Friday 12th August at 14:45 on the Sophie Lancaster Stage.
Well it seems, the cat may be out of the bag, during the recent Burn My Eyes 28th Anniversary Playthrough as part of Machine Head's Electric Happy Hour live stream, you can hear Chris Kontos saying
"Looking forward to seeing everybody at Bloodstock, we're gonna be over there"

With Robb Flynn then laughing saying:

"Yeehhh we're gonna be over there!"
Watch below.
Get Primordial Premium
30 Days Free. No Auto-Renewal. No Credit Card Needed.
– 24/7 Radio Station
– No Ad-Breaks
– Exclusive Discounts On Gigs & Merch
– On-Demand Shows & Podcasts
– Thriving Community
The guys are either taking the piss and love a good wind-up, or we could be set to see Machine Head at this year's Bloodstock Festival, perhaps Burn My Eyes in full or a cheeky afternoon Electric Happy Hour?
Whatever happens, we'd recommend getting into the Sophie Lancaster Tent early doors just to make sure.
Machine Head are due to be back in the UK later this month for the Electric Happy Hour tour and Vikings & Lionhearts Tour with Amon Amarth and The Halo Effect.
Grab Your Tickets To See Machine Head
August 2022
31st – Glasgow, Garage – SOLD OUT
September 2022
02nd Inverness, Ironworks ⁠
04th Aberdeen, Lemontree⁠ – SOLD OUT
05th Dundee, Fat Sams⁠
06th Edinburgh, Liquid Room – SOLD OUT
Vikings & Lionhearts Tour 2022 with Amon Amarth & The Halo Effect⁠
September 2022
08th Nottingham, Arena⁠
09th Cardiff, Arena⁠
10th London, Wembley Arena⁠
12th Manchester, Arena⁠
13th Dublin, 3 Arena⁠
---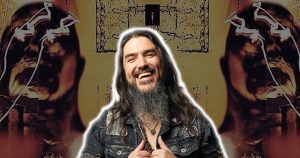 Links in this article may contain affiliate links where Primordial Radio receives a commission if you make a purchase through these links.
For our full list of affiliates, head here.