Lamb of God have released their new song "Omens" the title track from the band's upcoming studio album.
Speaking about the track front-man Randy Blythe says:
"I think a lot of the messes human beings find ourselves in could be very easily prevented simply by paying attention to obvious repeating patterns, both in our personal lives and in a broader sociohistorical context."

"What some call 'omens' are really just manifestations of the fact that there is nothing new under the sun. It's foolish to ignore this, but we all do it."
Listen to the track below.
The band are due to headline the Sunday night at this year's Bloodstock Festival on the Ronnie James Dio Stage and will be back in the UK later this year with Kreator, Thy Art Is Murder and Gatecreeper.
Grab Your Tickets To See Lamb Of God
December 2022
13 – London, 02 Academy, Brixton
14 – Glasgow, o2 Academy
15 – Birmingham, 02 Academy
16 – Bristol, o2 Academy
18 – Manchester, Academy
Lamb of God's Omens album is due out on Oct. 7 via Nuclear Blast Records.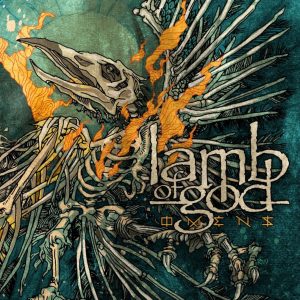 1. Nevermore
2. Vanishing
3. To The Grave
4. Ditch
5. Omens
6. Gomorrah
7. Ill Designs
8. Grayscale
9. Denial Mechanism
10. September Song
Get Primordial Premium
30 Days Free. No Auto-Renewal. No Credit Card Needed.
– 24/7 Radio Station
– No Ad-Breaks
– Exclusive Discounts On Gigs & Merch
– On-Demand Shows & Podcasts
– Thriving Community
Omens Lyrics
I cut the weight of connection and lead myself astray
The end will justify the means, but in the end it stays the same
There's nothing left at all, nothing left to see
A restrictive empty exercise within a hollow scheme
Do you see the
Omens? Omens
Fuck it all, ignore the omens
Omens, omens
Fuck it all, ignore the omens
An endless recitation thrown right through the looking glass
I'm trapped inside a parody, a fabricatеd past
Searching for releasе from all this rising stress
Charted past the point of curing with a broken compass
Motes in the eye of God, indulging Armageddon
The devil slits the muse's throat and drinks her last confession
Do you see the
Omens? Omens
Fuck it all, ignore the omens
Omens, omens
Fuck it all, ignore the omens
I've fallen out of touch with who you think I am
I can't pretend to care or bother to condemn
All this rising apathy, it's growing every day
I can't pretend to care about how this will end
All I see
Are omens, omens
Fuck it all, ignore the omens
I see omens, I hear omens
I say fuck it all, ignore the omens
---