Machine Head's new album Of Kingdom and Crown is out now via Nuclear Blast Records. To celebrate the album's release, front-man Robb Flynn will be playing the new album exclusively on Primordial Radio, playing every track from the album, and talking about the inspirations, challenges and more behind Of Kingdom and Crown.
Order of Of Kingdom & Crown here.
The broadcast will start at 20:00 (BST) and will be available on-demand after the broadcast. Speaking about the new album to Primordial Radio, Robb Flynn states:
With this record, I had the time to write a concept, previously I'd never had time due to tours and deadlines. The biggest challenge of writing a concept was I had to feel a connection to it, when I originally started writing Of Kingdom and Crown, it was very much good guy v bad guy, good guy wins, a very American story ark.

It read well and was very poetic but I just felt like I was reading words off a page and then somewhere over the pandemic, my two teenagers re-connected me to anime which opened up a whole new world of imagination for the album and everything went from there.

Shout out to Primordial Radio and all the maniac listeners for letting me play the album in full!
Listen to the album in full from 20:00 (BST) on Friday 26th August.
Not a member? Sign up below.
Get Primordial Premium
30 Days Free. No Auto-Renewal. No Credit Card Needed.
– 24/7 Radio Station
– No Ad-Breaks
– Exclusive Discounts On Gigs & Merch
– On-Demand Shows & Podcasts
– Thriving Community
Robb Flynn also spoke to Pete Bailey about the new album Of Kingdom & Crown, appearing at Bloodstock Festival as the secret band and how Electric Happy Hour has positively impacted the band.
Machine Head are due to be back in the UK later this month for the Electric Happy Hour tour and Vikings & Lionhearts Tour with Amon Amarth and The Halo Effect.
Grab Your Tickets To See Machine Head
August 2022
31st – Glasgow, Garage – SOLD OUT
September 2022
02nd Inverness, Ironworks ⁠
04th Aberdeen, Lemontree⁠ – SOLD OUT
05th Dundee, Fat Sams⁠
06th Edinburgh, Liquid Room – SOLD OUT
Vikings & Lionhearts Tour 2022 with Amon Amarth & The Halo Effect⁠
September 2022
08th Nottingham, Arena⁠
09th Cardiff, Arena⁠
10th London, Wembley Arena⁠
12th Manchester, Arena⁠
13th Dublin, 3 Arena⁠
---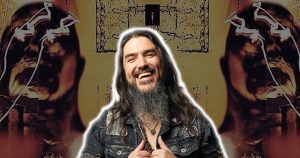 Links in this article may contain affiliate links where Primordial Radio receives a commission if you make a purchase through these links.
For our full list of affiliates, head here.