Having cancelled their Reading & Leeds performance to be a part of MTV's "Video Music Awards" (VMA's), not everything quite went to plan for Måneskin who were censored by MTV when performing their song "Supermodel" during the ceremony, with bassist Victoria De Angelis appearing topless.
Viewers reacted angrily at the censorship:
Soooo we can show nicki Minaj basically playing with herself but a nip slip from #maneskin is a big deal and you don't just cut to another band member? You suck @vmas @MTV !!making us maneskin fans miss majority of the damn performance.
😡

— StephsCraftingBits (@StephD311) August 29, 2022
Are u fucking kidding me?! Maneskin made a hell of a performance and vmas just censored at least 95% of their performance, pls someone fire these people

— Fraenerys Skywalker (@kikaeverdeen) August 29, 2022
No but i'm still mad as hell over vmas ruining maneskin's performance, a shirtless man is fine but when it's a woman suddenly it's a problem and has to be censored? Get out of here with this bullsht
😑

— monika⁷ (@monitabae) August 29, 2022
it would've been better if actually aired the full performance and not cut to a random ass angle where we could literately see nothing! maneskin don't deserve this. 🙄 #VMAs https://t.co/Itwzuojlus

— vanessa ४ (@mcuseance) August 29, 2022
Get Primordial Premium
30 Days Free. No Auto-Renewal. No Credit Card Needed.
– 24/7 Radio Station
– No Ad-Breaks
– Exclusive Discounts On Gigs & Merch
– On-Demand Shows & Podcasts
– Thriving Community
Måneskin were recently at the centre of controversy when they decided to pull out of Reading & Leeds Festival which took place this weekend, in a statement, the band said:
We are sad to announce that unfortunately due to unforeseen scheduling conflicts, we are no longer able to perform at Reading & Leeds festival this year. We love and miss the UK and all of our beloved UK fans and we're absolutely gutted to no longer be able to play these shows.

Reading & Leeds responded with:

We are saddened to hear that Jack Harlow and Måneskin have decided to perform at an award show the same weekend they were confirmed to play Reading & Leeds.
Watch Måneskin perform Supermodel at the VMA's below.
---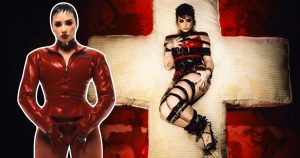 Links in this article may contain affiliate links where Primordial Radio receives a commission if you make a purchase through these links.
For our full list of affiliates, head here.