Guitar virtuoso Nita Strauss has unleashed her brand new instrumental single, "Summer Storm", with an accompanying live music video filmed from her recent U.S. headline tour.
The new track sees Nita go back to her instrumental roots following her previous single, "Dead Inside" which featured guest vocals from Disturbed's David Draiman.
Nita comments:
Instrumental music is where my heart is, and 'Summer Storm' might be the song I feel captures my personal style the most: cathartic, driving and emotional.

While a lot of the upcoming record will have guest vocalists, I'm also so proud of the instrumental tracks and excited to officially unleash this one on the world!
Watch the video below.
---
Get Primordial Premium
30 Days Free. No Auto-Renewal. No Credit Card Needed.
– 24/7 Radio Station
– No Ad-Breaks
– Exclusive Discounts On Gigs & Merch
– On-Demand Shows & Podcasts
– Thriving Community
Nita recently departed from Alice Cooper's band to join pop star Demi Lovato who made their live debut on ABC's "Jimmy Kimmel Live!" performing the single 'Substance'.
Watch below.
---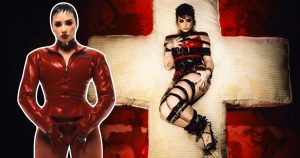 Links in this article may contain affiliate links where Primordial Radio receives a commission if you make a purchase through these links.
For our full list of affiliates, head here.