Two great Special Guests at the AGM 2020
Primordial Radio is extremely proud to announce TERRORVISION as very special guests to SKINDRED at the Annual General Mayhem, 2020. Terrorvision were born in 1988 out of the remnants of a glam rock mess called Spoilt Brats, an amalgamation of art school buddies Mark Yates and Leigh Marklew, drumming loon Shutty and long-haired urchin Tony Wright.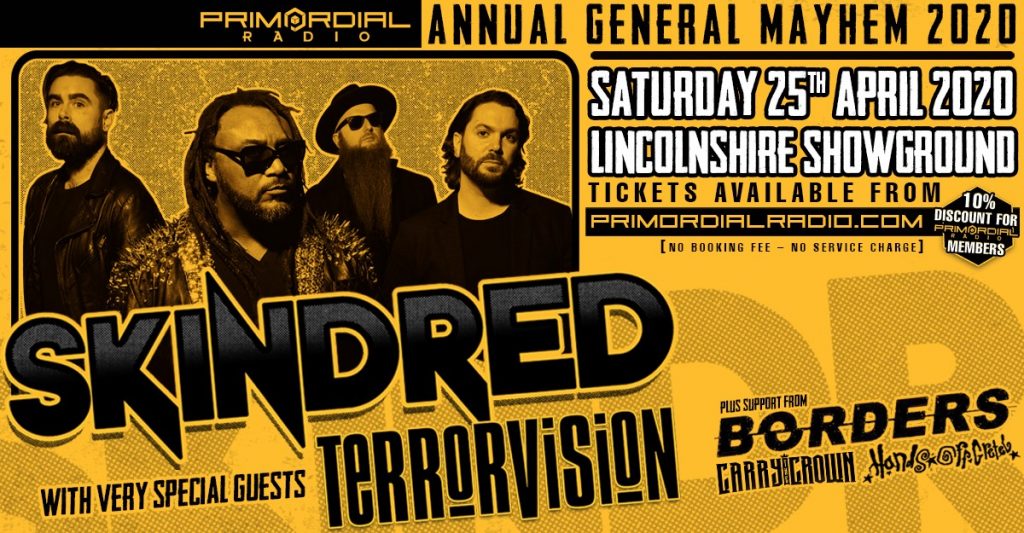 Now back and ready to rock this Christmas with Our Christmas Song, Terrorvision recently celebrated the 25th anniversary of their biggest album How to make friends and influence people during a sold-out tour in May 2019, the band finally decided to make good on a long-standing ambition to write a Christmas single – a proper, glorious foot-stomping, arms around each other Wizzard/Slade inspired Christmas single!
"Our Christmas Song is that festive present to the fans, and anyone else with a love of the heady days of pop music, when the Christmas No.1 mattered and the main event on Christmas day was settling down to watch Top of the Pops with the last few segments of your chocolate orange, washed down with a cheeky swig of your Gran's Snowball." exclaim
the band"
Also joining the lineup in support alongside BORDERS & HANDS OFF GRETEL will be CARRY THE CROWN, an Alt Rock band based in Lincoln. Known for their thrilling stage performances, they bring their catchy and anthemic sounds and mix them with a stage show that the crowds love. The band are driven beyond belief and have achieved more in their first year than even they could have expected.
Primordial Radio's Music Director; Pete Bailey –
"We are beyond honoured to have Terrorvision joining as very special guests to Skindred, a band with such an amazing back catalogue, rich history and incredible live shows, I've no doubt they'll receive the warmest of welcomes from the Primordial community and I genuinely can't wait until April. I'm also hugely delighted that Carry The Crown have joined the bill, undoubtedly one of the most exciting bands breaking in the UK right now, to have them alongside Borders and Hands Off Gretel shows just how strong the emerging talent is in 2019!"
Tickets available at – https://primordialradio.com/agm/
• Primordial Members get 10% discount
• Non-Primordial Members can sign up to a 30-Day Free trial with no obligations to take advantage of the discount
• No Booking Fee. No Service Charge.
• Under 16's go free (All under 16's need to be accompanied by an adult)