The Primordial General Mayhem is BACK for 2023! Now with a new home at KK's Steel Mill in Wolverhampton, here is the lowdown on what to expect across the weekend.
Stage Times
Please find below our stage times and schedules for Friday 28th and Saturday 29th of April.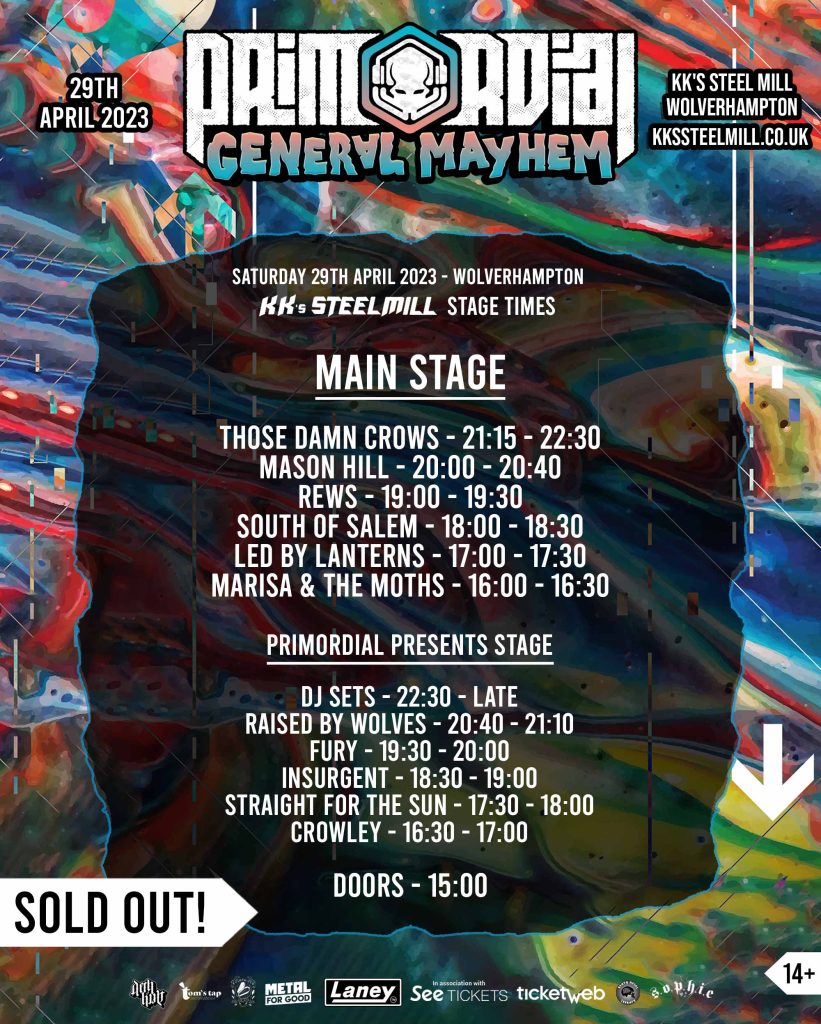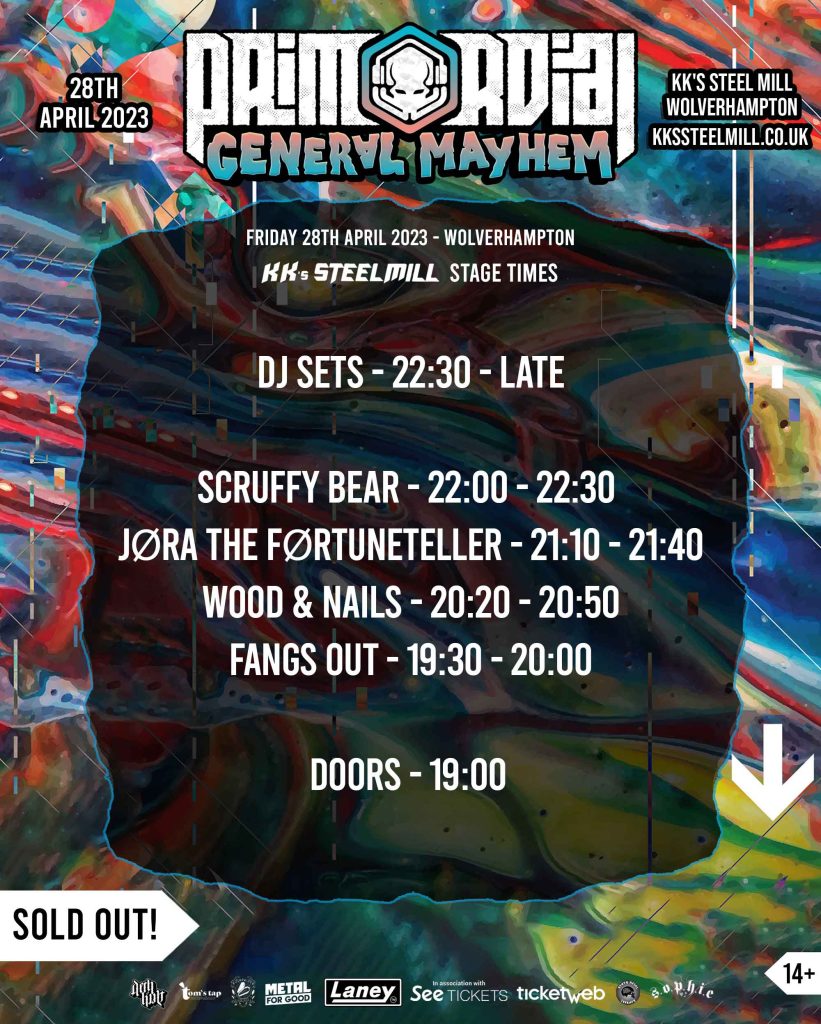 Tickets
Your digital ticket will be sent to the email address you purchased via SeeTickets or Ticketweb simply bring a copy of your ticket, either on your phone or a printout and we will scan your ticket at the Box Office Upon Arrival.
Tickets are now sold out, there will not be any available at the door.
For ticket support contact SeeTickets / Ticketweb.
Site Map
Please be aware that the Primordial Presents stage is a separate room within KK's Steel Mill with a capacity of 200 which we will monitor throughout the day.
Venue Address & Info
Address:
KK's Steel Mill
Frederick Street
Wolverhampton
West Midlands
WV2 4DU
Taxi's
For a list of recommended Taxi firms in Wolverhampton, please head here.
Bar
The bar is run by KK's Steel Mill with 4 bars across the venue and a wide selection of drinks available at very reasonable prices.
Food Vendors
We're delighted to welcome back some of our favourite vendors back to the PGM with both vendors offering Vegan, Veggie and Gluten Free options. KK's will also be running their own food stall at the bar within the venue.
Firehouse Kebab – Grill & Pizza (Burgers, Kebabs, Pizzas etc)
Offering an array of kebabs, grills, and pizzas, the aromatic flavours and spices are enough to get your taste buds dancing with joy! At Firehouse Kebab – Grill & Pizza, you can indulge in some mouth-watering dishes that will leave you craving for more.

The Naughty Pig (Chinese Street Food)
The Naughty Pig is a unique food company that specializes in delicious Chinese Street Food. They pride themselves on using only the freshest ingredients and bold seasonings, giving each dish a flavour that sets them apart from the rest. With a mission to deliver the perfect blend of spices, textures, and aromas in every dish they create, The Naughty Pig has quickly become one of the most sought-after food vendors in the Midlands.
Stallholders
We love them and think you will love them too! We're very pleased to welcome our stallholders to the PGM this year.
Metal For Good is dedicated to leveraging the values of rock, metal and other alternative subcultures for good causes in communities. They offer grants to organisations that use music as an uplifting tool, with funding provided by industry partners, promoters and individuals via donations or profits from merchandise sales.
Their mission goes beyond simply raising money – they believe it's essential to create a sense of belonging within the community through a shared appreciation of great music; this results in improved quality of life for those who find resonance there.
The Sophie Lancaster Foundation
Sophie Lancaster was a young woman who was murdered for being different. She and her boyfriend were creative, artistic people who dressed in their own unique way. They were attacked by a gang of five boys in a park in Bacup, Lancashire on 11 August 2007. The gang attacked Sophie's boyfriend first and then turned on her, carrying out a brutal and sustained attack. Sophie remained in hospital for 13 days, before following medical advice, the family agreed to life support being switched off. Sophie died on 24 August 2007; she was just 20 years old.
The Sophie Lancaster Foundation was established as a lasting legacy to a beautiful life cut short by violence. The Foundation's mission to stamp out prejudice hatred and intolerance everywhere can be summed up in one word – S.O.P.H.I.E.
Heavy Metal Therapy
Heavy metal therapy is an online resource and community of people who find metal music helpful for mental well-being. It is a place to find and share experiences of how metal has helped us, the meaning we take from songs or lyrics, and playlists that we have found useful.
Dive into the world of Pirate Cat Creations and discover a treasure trove of one-of-a-kind handmade jewellery and gifts. Whether you're looking for a statement piece to spice up your wardrobe or a thoughtful present for a loved one, With their keen eye for detail and passion for craftsmanship, you can trust that your custom piece will be a work of art.
Donna of The Metal Queen is a talented artisan who began creating beaded items in 2016 for loved ones. Her passion for all things mystical, macabre, and horror is reflected in her unique creations, which are heavily influenced by her love for heavy metal music. However, her craft is more than just a hobby – it's a therapeutic outlet that allows her to unwind with some much-needed crystal healing.
GraceMoth is a collection of beautifully eerie illustrations that take inspiration from nature and all things creepy. With a unique and captivating style, these inky illustrations bring to life the darker elements of the natural world in a way that is both fascinating and haunting.
Press & Media
If you would like to cover the General Mayhem for your Blog, YouTube Channel or anything else, we'd love to have you there! Simply contact Pete Bailey for accreditation.
FAQ's
For all other FAQs please head here.
Safe Events Pledge and Code of Conduct
At Primordial events, we take safety and inclusivity seriously. We encourage the community to always look out for one another and adhere to the golden rule of not being a dick. So please have a good time, but always be mindful and respectful of those around you. Read the full code of conduct here.
Support
If you still need assistance, please head to primordialradio.com/support.
– The Primordial Radio Team