Supporting our Community with a FREE Rock and Metal Show
Primordial Radio is very proud to announce it will be holding a FREE show for Manchester Mind and The Sophie Lancaster Foundation. The show due to take place on Saturday 29th June 2019 at Rebellion, Manchester will be headlined by Those Damn Crows, one of the fastest rising new rock bands in the UK. Support will be coming from Ravenface who recently returned after a five-year break with their new album 'Breathe Again' hitting number 2 in the iTunes Rock Charts. Support also comes from As Sirens Fall; an eye-catching alt-rock outfit based out of West Yorkshire, England, known for their bombastic live shows and die-hard fanbase and 2018 Bloodstock Metal 2 The Masses winners Sertraline.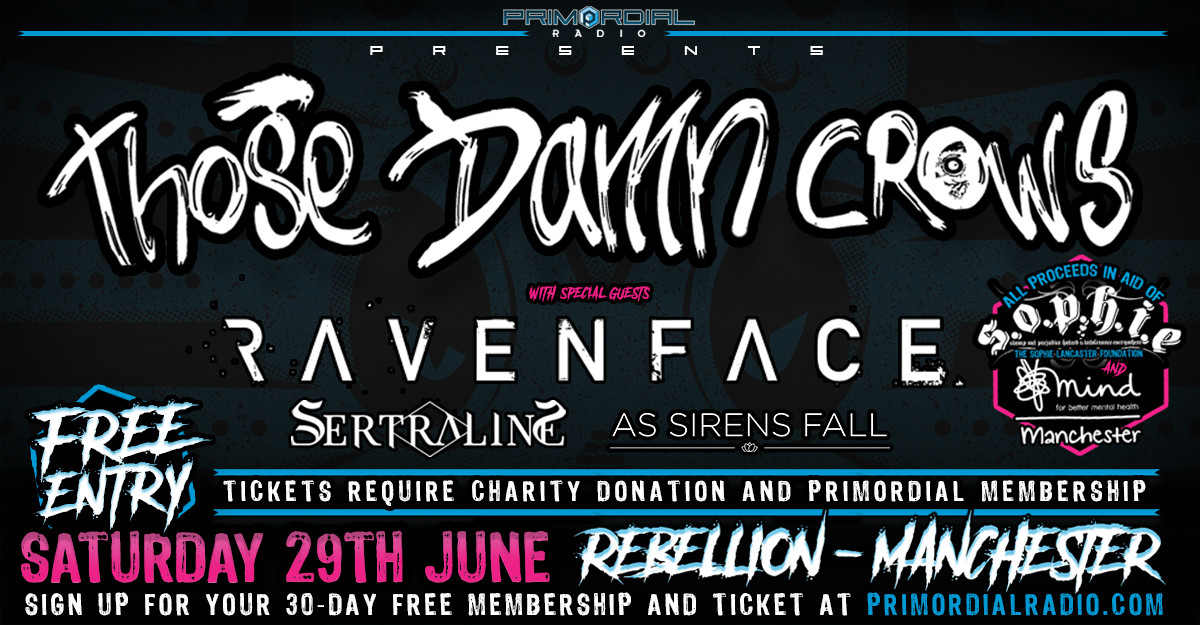 Primordial Radio's Music Director; Pete Bailey –
"Since we launched Primordial Radio in 2017 we've been continually amazed at the level of community support, so we're always thinking of new ways we can best serve our community and be a force for good in the world. With that in mind, we couldn't be happier to be able to put on a free show featuring Those Damn Crows, Sertraline, Ravenface and As Sirens Fall whilst also raising money for Manchester Mind and The Sophie Lancaster Foundation. It's gonna be one hell of a night!"
Get your Primordial Radio Presents Live Free ticket at – https://primordialradio.com/primordialpresentslive
• Charity donation and Primordial membership required
• Non-Primordial members can grab a free ticket by signing up for a 30-Day Free membership
About Primordial Radio – www.primordialradio.com
Primordial Radio is a crowd-funded premium rock and metal radio station that gives members a service free from regulation and reflective of a true rock and metal environment. In 2017, Moose, Dewsbury, Pete Bailey and Engineer Mark said, "Fuck that" and decided to flip the existing radio model on its head and went on to successfully raise £150,000 from the rock and metal community to launch the station and now have over 1400+ members. Find out more about Primordial Radio membership here
• Mind is the national charity based in London, with its own vital role and function (information and advice; e-support; lobbying/campaigning).
• There are also 128 local Mind associations (LMAs), who are proud members of the national network, but independent charities raising their own funds each year to deliver mental health services in their local communities.
• As each community is different, so is each LMA in how it responds to local needs. Some LMAs provide counselling, advocacy, training, befriending and youth services, whilst others may as offer crisis helplines, drop-in centres, peer support, welfare/debt/housing advice, family intervention work and employment and training schemes.
• Manchester Mind works hard keep support services available to 6,500 young people and adults each year, which is why your support is so important to us.
Following the horrific murder of Sophie Lancaster, her family wanted to ensure a lasting legacy to their beautiful, bright creative daughter and so The Sophie Lancaster Foundation was established. It became a registered charity in 2009.
The aims and objectives of the Charity are as follows:
• To create a lasting legacy to Sophie.
• To provide educational group-works that will challenge the prejudice and intolerance towards people from alternative subcultures.
• To campaign to have the UK Hate Crime legislation extended to include people from alternative subcultures or lifestyle and dress.
Founded in 2013, Rebellion is a 400+ capacity live music venue situated in the heart of Manchester City Centre. Offering a home for alternative music from around the Globe, you can expect to hear anything from Rock'N'Roll to Hip Hop, Punk to Funk, Indie to Heavy Metal – there is something for everyone.