First bands announced for AGM 2020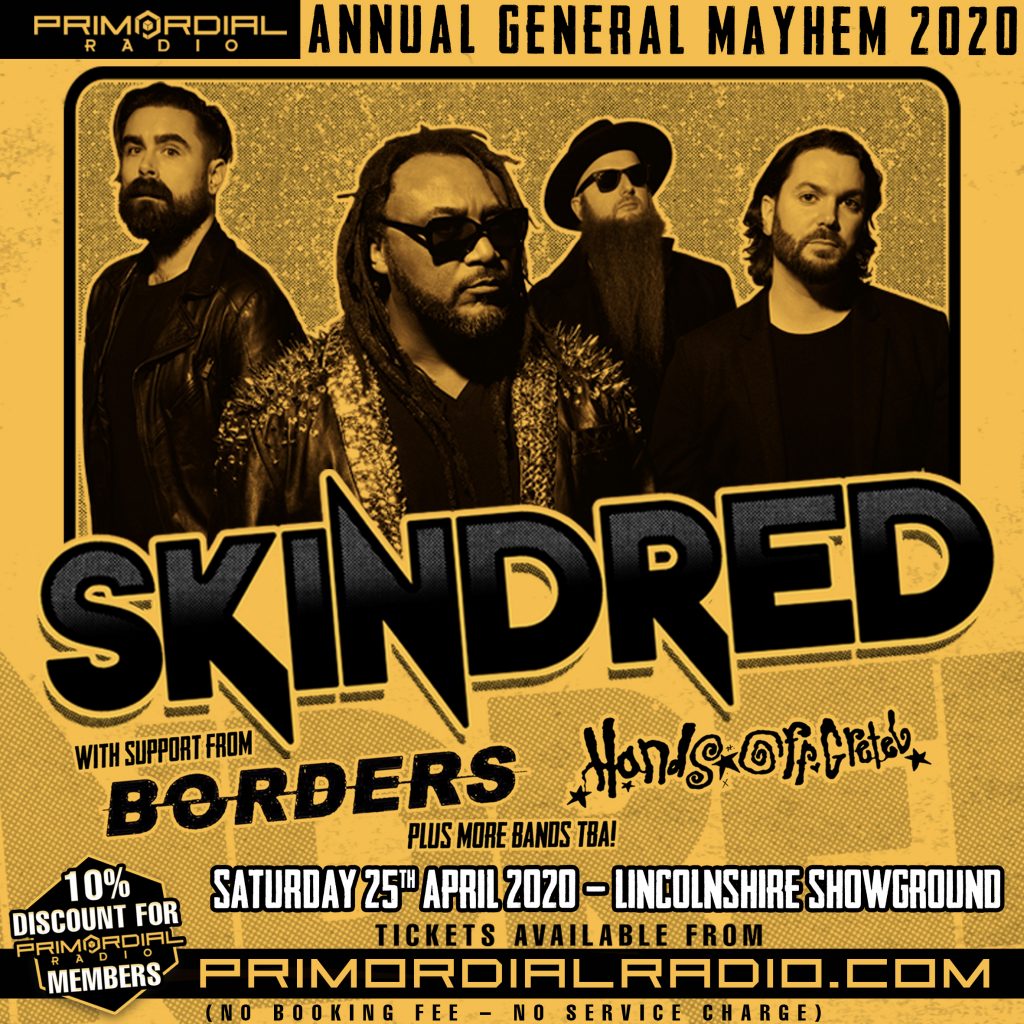 Primordial Radio is very proud to announce Newport ragga-punk-metallers SKINDRED as headliners for the Annual General Mayhem 2020. With a reputation as one of the UK's most formidable live acts by rocking the world's biggest stages, the Newport destroyers have been a perennial force for musical invention and remorseless positivity which they'll be bringing to the Lincolnshire Showground on Saturday 25th April 2020.
Support on the night will be coming from BORDERS, hailing locally from Lincoln they have been pushing to lead in a new era of heavy music by seamlessly blending genres and styles to forge a crushing yet melodic and unique experience. Also joining the bill is HANDS OFF GRETEL, a sassy alt rock/grunge pop band from South Yorkshire, who have built themselves a solid live reputation, for high energy shows that are musically dynamic and visually compelling. More supports also to be announced soon.
Tickets are available exclusively to Primordial Radio members (with a 10% discount) until midnight 29th September. Not a member of Primordial Radio? No worries! Grab your 30-Day FREE membership now, no credit card or payment details needed.
SIGN UP FOR YOUR 30-DAY FREE MEMBERSHIP
As a member of Primordial Radio, you'll get:
10% off your Skindred ticket and all other Primordial events and merchandise
Access to presented shows with NO ADVERTS from Moose, Dewsbury, Pete Bailey, Shorty and The Blowfish.
Access to exclusive Primordial podcasts such as Croftys Tracks ft Sky Sports F1 commentator David Croft (Crofty)
On-Demand shows from all of the presenters and one-off specials ft listener takeovers and live broadcasts from the Heavy Music Awards
Become part of a thriving community (#PRfam)
Get your Primordial Radio AGM 2020 Tickets here
Have a question about the AGM? CLICK HERE for our FAQ section.
Primordial Radio is a premium rock and metal radio station free from regulation and advertising that reflects a true rock and metal environment. In 2017, Moose, Dewsbury, Pete Bailey and Engineer Mark said, "Fuck that" and decided to flip the existing radio model on its head and successfully raised £285,000 from 1300 investors across the UK rock and metal community to launch the station which now has 1800+ members.