Primordial Radio is very excited to announce it will be holding its first-ever official Halloween event on Saturday 29th October, 2022 at The Craufurd Arms in Milton Keynes.
The event will feature live music headlined by 80s-inspired synth-wave rockers LeBrock, who have just released their new single Running Wild which combines 80s melodic rock riffs with shimmering synth-wave melodies and heartfelt vocal delivery.
Support on the night will come from innovative nu-metallers Blackgold who recently teamed up with Jason Aalon of the Fever 333 for an incredible cover of Cypress Hill's I Ain't Goin' Out Like That'.
Jason Aalon stated:
When I heard this rendition of I Ain't Goin Out Like That' from the undercover homies Blackgold I was so thankful to hear people holding guitars doing right by the funk and LA rap legends Cypress Hill. This cover goes hard!
Opening the bill is grunge-inspired Milton Keynes rock act Torus, who have recently just played at Bloodstock Festival 2022 and released their debut EP "Sail".
Also, on the night there will be a Battle Of The Bangers DJ Sets, Live Radio, Podcast and Twitch Broadcasts, as well stallholders, competitions and more. The age Policy is 14+.
Tickets are on sale now.
Grab a 30-Day trial to Primordial Premium and grab 10% off your ticket below.
No Auto Renewal. No Credit Card Needed.
---
Primordial Halloween Tickets
Member Discount Tickets (10% Off)

Grab 30 days free (No Auto-Renewal, No Credit Card Needed) and get 10% off tickets, access our radio station and much more.
General Sale Tickets (No Discount)
Saturday 29th October – Milton Keynes, The Craufurd Arms
Book Hotel
Book your accommodation for Primordial Radio's Halloween Event
---
Featuring LeBrock's signature blend of melodic rock and pop, as well as pulling influences from the best of past and present Running Wild is an energetic rebellious '80s-inspired ballad featuring an impassioned vocal performance from LeBrock over provocative lyrics.
Effervescent guitar chords fusing with shimmering retro synth melodies, and an invigorating guitar solo, all add to a classic rock flourish that will push the single along with fans into "Running Wild."
Blackgold are back with a phenomenal new release. Following rave reviews from the release of their debut E.P. earlier this year, the masked misfits have returned and have teamed up with the legendary Jason Aalon of Fever 333, to pay homage to hip-hop icons Cypress Hill, with their version of I Ain't Goin' Out Like That'.
Milton Keynes rock act Torus recently released the grunge-inspired visceral & vivacious 3rd single "Clone" from their debut EP, "Sail" out now.
Get Primordial Premium
30 Days Free. No Auto-Renewal. No Credit Card Needed.
– 24/7 Radio Station
– No Ad-Breaks
– Exclusive Discounts On Gigs & Merch
– On-Demand Shows & Podcasts
– Thriving Community
---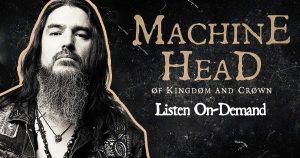 Links in this article may contain affiliate links where Primordial Radio receives a commission if you make a purchase through these links.
For our full list of affiliates, head here.