The Inkubus Project – how hard can it be ?
Mission Situation : Accommodating Primordial Radio when out "on the road".
Tents would have been cheaper but due to <REDACTED>'s lack of enthusiasm for embracing the outdoor lifestyle under canvas, an alternative solution is required.
Something that can be used by Primordial Radio at Festivals & Events and possibly made available for bands, artists and others to use. Something with wheels…. and a roof
Mission Crew : We had a problem, we knew where to find them, we knew they would help – The P-Team has been assembled.
Headed up by Primordial Dad aka Paul Marshall and Pridge  in charge of herding any help offered and "acquisitions "alongside a crack team of volunteers who have been identified from the Primordial Radio Community, aka #prfam,
Mission Brief : Turn a bus into a mobile studio & camper !
Inkubus Mission Updates :
April 2021 – It's been a while, but the Inkubus camper team have been busy behind the scenes !
Would you hire the Primordial Radio Inkubus Camper when it's available ?
Maybe - can I think about it ? (100%, 2 Votes)
Yes - Damn right, here is my wallet (0%, 0 Votes)
Nope, already got one (0%, 0 Votes)
Total Voters: 2

Loading ...
6th April 2020 – There is no stopping Paul ! But as he says "Another full day on the inkubus, doesn't look like I've done much, but it's the black art of electrics and you can hide everything" Plus a video walkthrough !
5th April 2020 – Primordial Dad has been cracking on
29th March 2020 – Doesn't look much but it took a lot of head scratching according to Primordial Dad
28th March 2020 – Solar Panels getting fitted to the Inkubus and the 4G comms kit is good to go….
19th March 2020 – the Inkubus gets a bus warming present from Angie Lane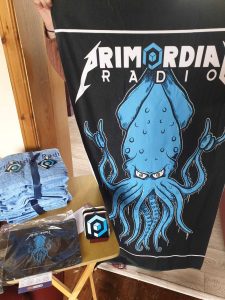 15th March 2020 – Another busy day on the Inkubus
13 & 14th March 2020 – Primordial Dad Update : Another busy day although the photos don't look it
23rd February 2020 – Primordial Dad Update : Had a good contingent of prfam here today and it has marched on, the stickers have been a pain but 1side is nearly clean of them and all the wires seem to be in, it's moving on but I'm tired now and I've done nothing
20th February 2020 – Richard Starbrook working on the rockstar stylie window tints
12th February 2020 – Inkubus arrives at Primordial Dad and work is underway
8th December 2019 – Primordial Radio makes its largest ever single purchase  – a bus !
16th January 2020 – We need you – well, not you, your stuff ! Can you help Pridge with his Inkubus requisitions list ?
9mm plywood
Camper stove/sink unit
Hot/cold water tap(camper style)
Water pump
20litre water container
10litre hot water tank
Propane regulator/fittings
3.9/5kg propane cylinder
Caravan mains connection
Porta loo(not an integrated 1)
4m wind out awning
240 – 12volt smart battery charger
12volt leisure batteries
Flexible solar panels and smart charging unit
Digital TV ariel
32″/40″ smart tv/monitor with hdmi and vga inputs
2000w invertor
12volt smart charging relay from the engine
Battery changeover switch
5- 2′ wide by 6′ long foam mattress
Dry powder fire extinguisher
Fire blanket
Diesel night heater
Bluetooth stereo (auto)
Forward /reverse dash cam
Foil blinds or material to make blinds 1m wide
Large foil wide-screen cover
Roll of foil insulation
Email me at roadcrew@primordialradio.com