A quick update on the Primordial Radio Pub Quiz VII: The Road to Download
There are several ways to enjoy tonight's pub quiz.
It is being shown in 3 pubs, so if you are in Leeds, Bristol or Goostrey then you can head out to an actual pub.
For everyone else, you can watch it wherever you have sufficient WiFi/mobile data and devices, so your living room, your bathroom, a McDonalds, Starbucks… by getting on to our Facebook or YouTube channels.
There is one hell of a prize for the winner of tonight's quiz, so it is well worth entering. The lucky winner gets:
2x 5 day camping tickets to Download 2018
Any two items of your choice from the Primordial Radio Merch Bazaar
VIP Festival Kit (Toiletries, Torch, Poncho) from Pic N Mix Festival Kit
Festival Survival Kit (Poncho, Toolkit, Bottle Opener) from Men's Society
Mixed Case (x24) from Pig & Porter with keepsake pumpclip disc
10L Box of Primordial Session Cider from Ascension with keepsake pumpclip disc
Not got a Quiz Ticket ? Head over here…..
If you fancy heading out for the evening, the pubs you can watch the quiz in:
Howl Bar,  112 Vicar Ln, Leeds LS2 7NL
The Gryphon, 41 Colston St, Bristol BS1 5AP
The Red Lion, 3 Station Rd, Goostrey, Crewe CW4 8PJ
This quiz is in support of the Sophie Lancaster Foundation
We like having fun here at Primordial Radio. Scratch that, we love having fun.
But we can be serious and we are serious about supporting the Sophie Lancaster Foundation, a great charity that is incredibly close to our hearts in the Rock & Metal community.
All proceeds from this edition of the quiz will go to the Sophie Lancaster Foundation, so even if you don't fancy playing the quiz itself but would like to donate, buying a ticket is essentially a donation.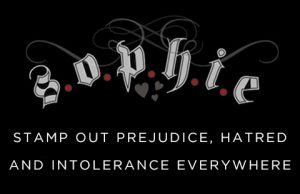 Last year the BBC produced a real-life drama about the murder of 20-year-old Sophie Lancaster in 2007, the link is below if you haven't seen it and would like to.
Want to know more ? Check out the Sophie Lancaster website https://www.sophielancasterfoundation.com/ and you can see the BBC real life drama "Murdered for being Different" here