Russian Turbo Polka Metal band Russkaja has disbanded citing reasons for being labelled as "Russian Terrorists" and "Pro-Russian".
In a post on the band's Facebook, they stated:
Hey there, the band RUSSKAJA has ultimately decided to quit with the band. This is after 18 years very sad news of course, but the ongoing war in Ukraine that was initiated by Russia on Feb 204th 2022 makes it impossible for us to continue with an image and style that is making satirical use of Soviet symbols and language. The band is called RUSSKAJA (transl. Russian) and based a lot on those attributes with a singer that was born in Russia and brought to Austria more than 30 years ago.


What once was fun in the band's music is nothing but bitter now and the band members cannot go on stage anymore without feeling that bitterness in every note played and every word sung. All the lyrics written have a totally different meaning now and none of the bandmembers wants to represent this since in these times it is only associated with war, death, crime and blood spilled.


The time has finally come to stop this. We tried to do statements, position ourselves publicly for what we stand and that's peace and unity. But we can feel that it's not enough and also it will not change anymore. We realized that this war will not stop soon and even if it would, the Soviet imagery and style is forever damaged now. RUSSKAJA has also become a target in the web, there's shitstorms everyday and with every new single we release. People call us Russian terrorist and pro-Russian even if we are the exact opposite. Finally we also care about the safety of our crew and all people involved and we don't want to risk anything violent happening when we're on the road and playing shows.


To most of us RUSSKAJA was not only our band but it was also our existence. This decision is very very sad for all of us but after all that happened since Feb 24 2022 we don't see any other chance here.We hope that all fans, promoters & partners can understand the hell we're going through taking our own baby to the grave after all these years. As a farewell gift we wanna give you our new album TURBO POLKA PARTY.
Get Primordial Premium
30 Days Free. No Auto-Renewal. No Credit Card Needed.
- 24/7 Rock & Metal Radio Station
- No Adverts
- Exclusive Merch & Discounts
- Exclusive Articles & Podcasts
- Thriving Community

Combining elements of polka, ska, fanfare and traditional Russian music in addition to pop and rock influences, Russkaja forged their own unique sound "Russian Turbo Polka Metal". Established by former Stahlhammer vocalist Georgij Makazaria in 2005 the group signed with independent Austrian label Chat Chapeau before changing over to Napalm Records years later. They are also popularly known for being the stationary band at the late-night comedy show 'Willkommen Österreich'.
The news of their disbandment comes as a shock as the band has just released their new album Turbo Pulka Party and was recently announced to perform at Bloodstock.
Bloodstock Festival 2023 Tickets
August 2023
10 – 13 – Derby, Catton Hall
Primordial Radio is supported by the community we serve. We may earn an affiliate commission when you buy through links on our site.
For our full list of affiliates, head here.
Appearing across the weekend at Bloodstock 2023 is the previously announced Megadeth, Meshuggah and Killswitch Engage who will headline the festival with Zeal & Ardor will headlining the Sophie stage with Devildriver, In Flames, Seething Akira, Fit For An Autopsy, Knocked Loose, and Gatecreeper also set to perform.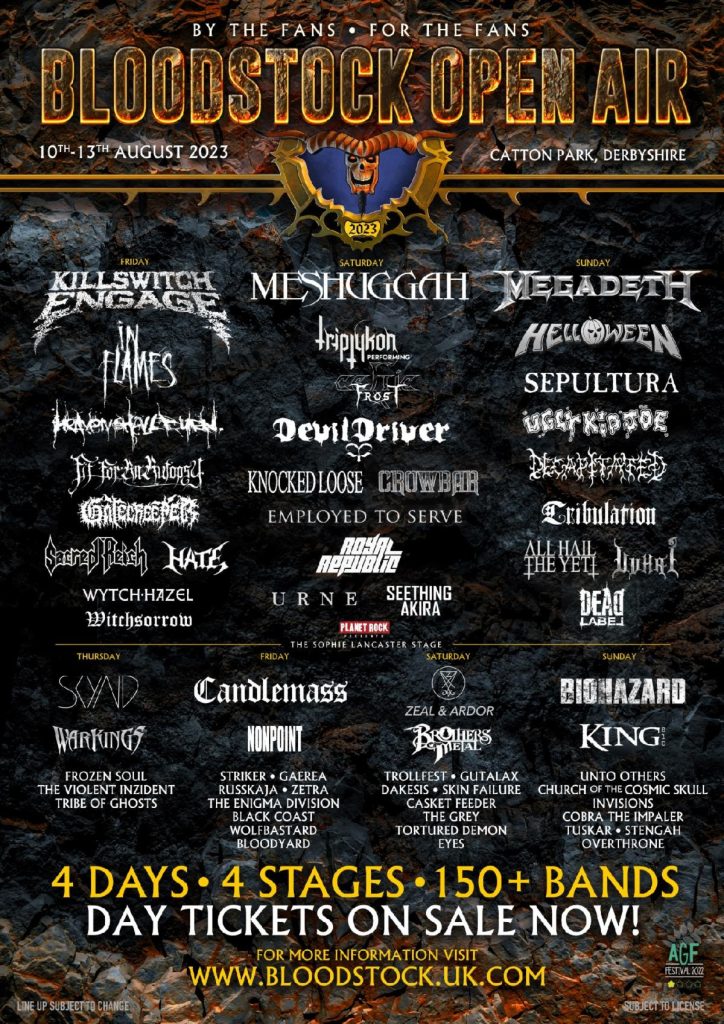 We went to Bloodstock Festival 2022 and despite the heatwave, had the best time. Check out our highlights video featuring the likes of Jinjer, Bloodywood, Behemoth and more.