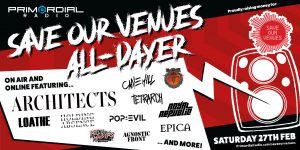 Primordial Radio is very proud to announce it will be holding a fundraising all-dayer on Saturday 27th February.
We're raising money for Save Our Venues, a campaign by the Music Venue Trust, to save grassroots music venues.
The all day online event will feature
takeover shows,
live interviews,
acoustic sessions,
a special guest makeup tutorial,
presenter & member shows,
Hybrid Query – online quiz show,
and the Rock & Metal quiz- The InkQuizition.
Confirmed guest appearances include:
Architects – Radio Takeover (Discography Playthrough)
Cane Hill – Radio Takeover
Epica – Live Stream (Makeup Tutorial)
Royal Republic – Live Stream (Hybrid Query Gameshow)
Loathe & Holding Absence – Live Stream (Interview)
Toni Coe-Brooker (Save Our Venues) – Live Stream
Bloodstock Festival – Live Stream – (Call of Duty)
Agnostic Front – Live Stream (Interview)
Pop Evil – Radio Takeover
Millie Manders & The Shutup – Live Stream (Acoustic Session)
Tetrarch – Radio Takeover
Radio takeovers will be on-air at Primordialradio.com with live streams being broadcast via our Twitch and YouTube channels.
The full schedule is available here and you can help by donating on the day at https://primordialradio.com/venues
Primordial Radio's Music Director Pete Bailey –
"We're now a year into the pandemic, all of us are feeling it and desperately want to get back to live shows. The incredible work The Music Venue Trust has done with Save Our Venues has been invaluable, it's an honour to be working alongside them to play our part in making sure that when we can (and we will) get back to live shows, our beloved venues will be there waiting for us! We've got an incredible day lined up, a massive shout out to all involved in making it happen and let's do everything we can to Save Our Venues!"
About The Music Venue Trust / Save Our Venues
Music Venue Trust (MVT), which represents hundreds of UK grassroots music venues (GMVs), has announced a new phase of its hugely successful #saveour venues campaign, which will be focused on securing the future of 30 venues that have been deemed ineligible to receive funding from the recent government-backed Cultural Recovery Fund.
This new 'Traffic Light' campaign will highlight venues considered safe until March 31st (Green – 353 venues), those at risk of closure between now and 31st March without additional support (Amber- 273 venues) and those at imminent danger of permanent closure (Red -30 venues). There are also a number of venues that have to date proved difficult to contact or have not responded (Blue -187 venues).
A range of targeted activity under the #saveourvenues banner has been announced, based around a combined effort by audiences, local communities, local councils and the creative community to prevent the permanent closure of these remaining GMVs. MVT is now urging everyone who cares about these venues to write to their local MP, council, local charities, and anyone else they can think of to demand action to prevent them from being closed for good.
Mark Davyd, CEO of Music Venue Trust said,
"What the #saveourvenues campaign has achieved during the last 8 months is truly remarkable. Thanks to the efforts of music fans, local communities and the wider music sector we have raised over £3m in donations and have unlocked over £80m in government assistance to help stave off the imminent closure of over 400 grassroots music venues. We are now focusing exclusively on those 30 remaining venues which face immediate permanent closure. If people want these local venues to still be there when this is over there is a very clear call to action: choose a venue, get donating, get writing, get calling, get organised. Save them all. Reopen Every Venue Safely."