There's no doubt about it, Trap Metal is taking off in a big way right now with artists such as Ghostmane, Ho99o9 and Scarlxrd all rising to prominence in recent years. Described as a fusion genre, Trap Metal combines elements of trap music, heavy metal, 2-step garage, jazz-funk, hardcore punk, gothic metal and electronic music.
One key aspect of the genre is collaborations and covers, with this recently being personified by TikTok star Jeris Johnson and City Morgue rapper ZillaKami teaming up for their reimagined version of Slayer's Raining Blood.
The video for the track also seems to pay homage to Slipknot's classic video for Duality with Jeris Johnson saying:
"Can anyone guess what classic music video was my inspiration for this??? 😉"
Check out the track below.
Slipknot's frontman Corey Taylor has already given his seal of approval to City Morgue rapper ZillaKami, with a recent guest addition on the intro to 'Chewing Gum' on ZillaKami's album DogBoy released in 2021.
---
Get Primordial Premium – 24/7 Rock & Metal Radio
No Adverts. 30 Days Free. No Auto-Renewal. No Credit Card Needed.
---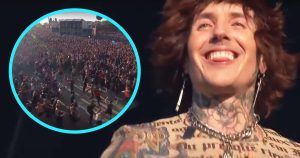 Links in this article may contain affiliate links where Primordial Radio receives a commission if you make a purchase through these links. For our full list of affiliates, head here.