In the same way that shops and bars are opening up on the 12th April – Primordial Radio is unleashing a new schedule next week.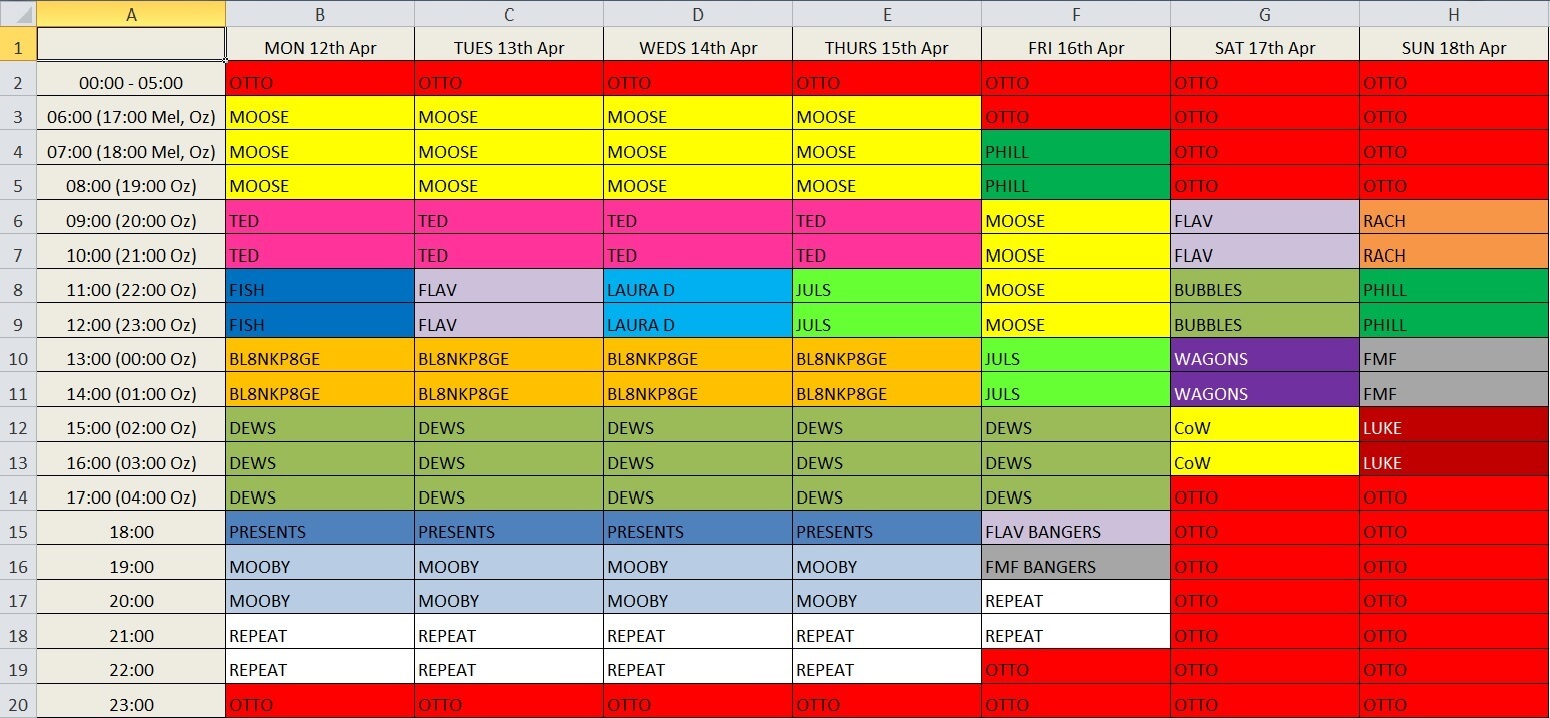 Click for a larger view
We can see from the listening figures that there are folks around from about 0600ish, so we want to be there for you early doors. Moose is going to be kicking off an hour earlier than previously at 0600, and going through until 0900, Mon-Thurs.
As part of our community care programme (to keep him here so he doesn't go into the community) we're keeping Ted on daytimes 0900-1100 Mon-Thurs.
You probably already know that Laura "Doof" Duff has joined the team, and she's going to be taking the midday slot on Wednesdays from 1100-1300.
By popular demand (and just because we're curious if he can keep coming up with jokes about Dewsbury's manhood!) Aussie legend Bl8nkP8ge is going to continue in the afternoons from 13:00-1500!
All of which means that Dewsbury will be on 1500-1800, extending the daytime schedule to a full 12 hours 0600-1800!
The evening line-up remains the same Mon-Thurs, only bumped up an hour, so we have Primordial Presents with Pete Bailey delivering the best new music 1800-1900, and the second Aussie of the day with Mooby on 1900-2100.
Missed a show ?
once the Technical hammers have been brought forth and the necessary incantations have been spoken the following shows will be available on demand!
Moose – Tues 0600 – 0900
Ted – Thurs 0900 – 1100
Blowfish – Mon 1100 – 1300
Bl8nkP8ge – Thurs 1300 – 1500
Dewsbury – Weds 1500 – 1800
Primordial Presents- Thurs 1800 – 1900
John Moorby – Thurs 1900 – 2100
Claire Flavin – Tues 1100 – 1300
Laura Duff – Weds 1100 – 1300
Juls – Thurs 1100 – 1300
Bubbles Brunch – Sat 1100 – 1300
Baz & Adam Show – Sat 1300 – 1500
Cavalcade of Whimsy – Sat 1500 – 1700
Miss Rach – Sun 0900 – 1100
Phill Thorne – Sun 1100 – 1300
Full metal Failey – Sun 1300 – 1500
Luke Milne – Sun 1500 – 1700