Voting is open – Heavy Music Awards 2020
Published in Station Updates, on Wednesday, February 26th, 2020
Heavy Music Awards 2020 – Voting is open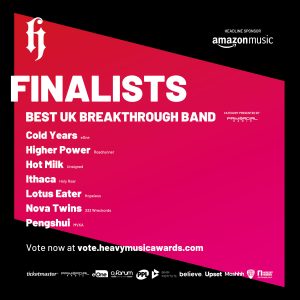 As you may have heard, Primordial Radio is sponsoring the Heavy Music Awards 2020 for the Best UK Breakthrough Band category and voting is now open  !
Hop over to the Heavy Music Awards website to cast your vote.
What are the Heavy Music Awards ?
Launched in 2017, the Heavy Music Awards democratically recognise the best of the year across the heavy music landscape – artists, events, photographers, designers, producers and more. With a panel of several hundred industry insiders nominating the finalists, the public has the final say on who wins.
The 4th annual Heavy Music Awards will take place on Thursday 21 May 2020 at the O2 Forum Kentish Town, London.
Click here to find out more about Primordial Radio at the HMA's 2020
Not a member of Primordial Radio ? Why not give it a go , free, for 3 months, no credit card/no obligation/no nonsense
Sign Up Here
Primordial Radio playing the best and latest in Rock, Metal and Beyond music – Radio as it should be !