Korn recently sub-headlined the main stage at Download Festival 2022, the set included tracks such as Got The Life, Shoots And Ladders and Here To Stay.
Here To Stay was professionally recorded, which you can watch below:
Korn released their new studio album Requiem earlier this year. Due to the effects of Covid and the inability to play live shows for the first time in the band's illustrious career, Requiem was conceived out of very different circumstances than the majority of the band's catalogue.
It is an album born of time and the ability to create without pressure. Energized by a new creative process free of time constraints, the band was able to do things with Requiem that the past two decades haven't always afforded them, such as taking additional time to experiment together or diligently recording to analogue tape – processes which unearthed newfound sonic dimension and texture in their music.
Grab Your Tickets To Download Festival 2023
June 2023
8 – 11 – Castle Donington, Download Festival
Meanwhile, Download Festival is gearing up for its 20th anniversary in 2023, with an extra day added for the occasion, the rumour is in full swing as to the headliners will be, with names such as Metallica, Slipknot and Bring Me The Horizon being touted as potential headliners for Download Festival 2023.
---
Get Primordial Premium
30 Days Free. No Auto-Renewal. No Credit Card Needed.
– 24/7 Radio Station
– No Ad-Breaks
– Exclusive Discounts On Gigs & Merch
– On-Demand Shows & Podcasts
– Thriving Community
---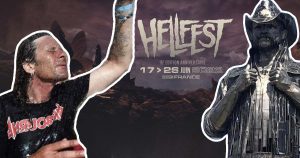 Links in this article may contain affiliate links where Primordial Radio receives a commission if you make a purchase through these links.
For our full list of affiliates, head here.