English Rock Duo NOVA TWINS are on track for a UK Top 20 album! In a post on their Facebook, the  band stated:
It's the final push to see if we can get 'Supernova' into the official UK charts. The easiest way to help make this happen is to download the album from Amazon or iTunes in the next 2 days, where it's only £4.99! We're in with a good chance but it's a tough week, with major label artists like Harry Styles, Drake, George Ezra, Ed Sheeran and Foals, alongside reissues from legends like David Bowie, Queen and Prince.

We love all of them artists but wouldn't it be amazing if two girls on an indie label got in there too! We wrote, played, cried, laughed and sweated blood into this album. We really want to take it all the way but we need a Supernova push to make that happen.
Already tipped as one of the most-anticipated albums of 2022, 'Supernova' is a piece of work that's fearlessly itself – once again playing with genre and rich in different moods, textures, and layers, all the while retaining that purity and simplicity of the essential elements: South, Love, bass, guitars, drums, and a whole lot of energy. Ultimately, it captures the tension and release that we've all been through lately, while imagining what's to come.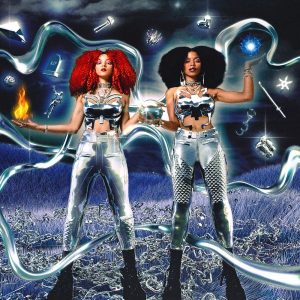 1: Power (Intro)
2: Antagonist
3: Cleopatra
4: K.M.B.
5: Fire & Ice
6: Puzzles
7: A Dark Place For Somewhere Beautiful
8: Toolbox
9: Choose Your Fighter
10: Enemy
11: Sleep Paralysis
Help Nova Twins secure their place in the official charts by ordering a copy below, you can also catch them on tour in the UK later this year.
November
10 – Glasgow – St Luke's
11 – Manchester – Academy 2
12 – London – Electric Brixton
Nova Twins are currently sitting at No. 26 in the Primordial Radio Top 40 Chart as voted for by the listeners of the station, get involved and cast your vote here.
---
Get Primordial Premium
24/7 Rock & Metal Radio

No Adverts. 30 Days Free. No Auto-Renewal. No Credit Card Needed.
---