Mongolian metallers The Hu have announced a UK & Ireland Tour for November 2022. This comes off the back of their recently released single called "This Is Mongol" which was recently No.1 in the Primordial Top 40 Chart ahead of their second official studio album set for release later this summer via Better Noise Music.
With "This Is Mongol," as with all of their music, The HU connects the world to Mongolian culture and its unique core values of natural preservation and spiritual connection with the earth. These core values are on full display in the new, epic official video for "This is Mongol". The deeply meaningful lyrics uplift the Mongol people, as the band wishes for prosperity and peace among all.
Previously debuting at #1 on the World Album and Top New Artist charts with their 2019 debut album The Gereg, the band is excited to start dropping new music for fans. Currently on their Black Thunder Tour this spring, The HU also recently played at Coachella, earning an array of critical acclaim. They will also join Five Finger Death Punch and Megadeath on tour later this summer.
Tickets will be on general on sale from Friday, July 1st at 09:00am.
Grab your tickets to see The HU
November
28 – Manchester, Academy
30 – Leeds, Uni Stylus
December
01 – Nottingham, Rock City
02 – Cardiff, University SU
03 – Birmingham, O2 Institute
05 – Dublin, 3Olympia Theatre
06 – Belfast, Ulster Hall
07 – Glasgow, SWG3
09 – London, Roundhouse
---
The band's name The HU, is the Mongolian root word for human being.  They call their style "Hunnu Rock"…inspired by the Hunnu, an ancient Mongolian empire, known as The Huns in western culture. Some of the band's lyrics include old Mongolian war cries and poetry.
Founded in 2016 in Ulaanbaatar, Mongolia by their producer Dashka, along with the members Gala, Jaya, Temka, and Enkush. The HU combines Rock Music with traditional Mongolian instrumentation like the Morin Khuur (horsehead fiddle), Tovshuur (Mongolian guitar), Tumur Khuur (jaw harp), guttural throating singing and the bombastic bass and drums of rock.
All four members have earned Bachelor's or higher degrees in music and have several years of touring experience throughout Asia and the Pacific Rim.
Get Primordial Premium – 24/7 Rock & Metal Radio
No Adverts. 30 Days Free. No Auto-Renewal. No Credit Card Needed.
---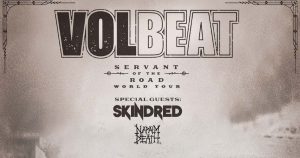 Links in this article may contain affiliate links where Primordial Radio receives a commission if you make a purchase through these links. For our full list of affiliates, head here.