One Word Wednesday Bingo or #owwb!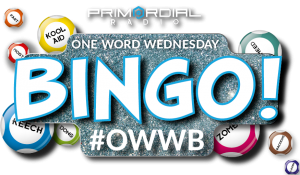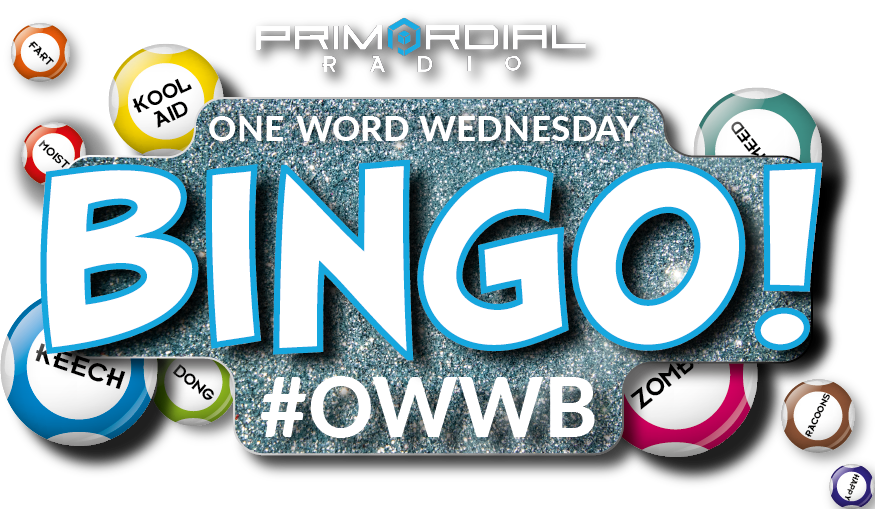 So, how do you play?
Quite simply, there are 12, no, 13 words which relate to a song title – guess correctly and be in with a chance of winning a Hive Mind Badge or the chance to pick the songs next week!
The chance to pick the 13 words and songs for next week will now be randomly drawn from the list of entries.
#owwb rules:
1 – word must be a real word
2 – word must only be one word
3 – #owwb will start at 9 am
4 – Monday release day for words, form released on Tuesday
5 – word must relate to the song title
The words will be released on a Monday and the BDF released on a Tuesday via the Primordial Radio Facebook Page, Primordial on Twitter, email, Telegram #owwb Chat and on this 'ere website!
As well as the Hive Mind instalment with Moose in the morning you can now play with Dewsbury (just wash your hands afterwards)!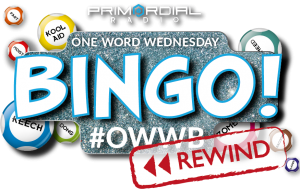 Starting from 13th of March your answers from the morning show will be transferred so you can compete against Dewsbury in the afternoon in #owwbrewind, the winner will get a pat on the back. #owwbrewind will be starting just after 17:00 so tune in to see if your entries do better!
29th April 2020 – Sherpa Dave won last week Rich Wilson is picking the songs for this week.
Burial
Circus
Flooring
Miami
Curse
Firework
Adulteration
Violence
Lathyrus
Boxer
wind
Melanoglossia
Incendiary
The entry form will be released Monday 27th April 2020 – keep an eye on the Primordial News Page
22nd April 2020 -Simon Longley won last week and Andrew Reading (who eventually send the words!) is picking the songs for this week.
15th April 2020 – Steve May won last week and the lucky winner picking the tunes this week is Sid
8th April 2020 – Cat Walker won the Hive Mind Badgge last week and Ronnie B is picking the songs for this week.
1st April 2020 – Tony Sutcliffe won last week with another sky high score of 17!!! The one and only Garf is picking the songs for this week.
25th March 2020 – Garf and BaldyGeoff both won last week with a respectable 10 points and the one and only David Harper is picking the songs for this week.
18th March 2020 -Theo , Andy  7ft Metalhead and Lee Baldwin won last week, Keith Woods is picking the songs
11th March 2020 – Keith Neilson won last week & the one and only Jason Elderfield is picking the songs for this week.
4th March 2020 – Tony Sutcliffe took the win and Garf was chosen at random to pick the words
24th February 2020 – Jeanette Groombridge won the sky high score of 16!!! John Oliver is picking the songs for this week.
19th February 2020 – Steve May won last week with the sky high score of 6!!! and Nigel (aka Freebird) is picking the words.
12th February 2020 – Rob Steen took the win, Dave Sherpa Haughton choosing the tunes….
5th February 2020 – Steve May took the win and "Team Lane" picked the tunes
29th January 2020 – Scouse Smurf won and Rozie picked the tunes
22nd January 2020 – BaldyGeoff took the win and Maggs the Witch is picking the words and tunes
15th January 2020 – Mark Broadbent took the win in the first #owwb of 2020 and Lewis Storey is responsible for the tunes
8th January 2019 – Steve Evans finished 2019 with back to back wins, John Moorby has picked the songs for this week
11th December 2019 – Steve Evans has returned to form and took the win last week, Mark Ormerod has picked the songs for this week
4th December 2019 – Andy the 7ft Metal Head returns to the winner's podium and Steve Mitchell is picking the tunes
27th November 2019 – Baldygeoff was the winner and Michael Murray is picking the tunes this week
20th November 2019 – A massive win for Jeanette Groombridge and Mr Steve May returns to the fold to pick the tunes
13th November 2019 – Another win for the 7ft Metalhead and Paul Farrington picked the tunes..
6th November 2019 – Andy the 7ft Metalhead romped home to victory with 16 points & Luke Griffiths picked a numerical theme.
30th October 2019 – Jan Cooke romped home to victory 2 weeks ago & the man known only as Griz is picking the tunes
16th October 2019 – Andy the 7ft Metalhead took the win last week in a 4 way (tiebreaker) and Jim Gray is choosing the tunes
9th October 2019 – Bauldygeff took the win in another #owwb tiebreaker and John Oliver picked the 12 tunes
2nd October 2019 – Rachel picked up the win and Simon Crockford picked the words
23rd September 2019 – Andy the 7ft Metalhead got another win and Ben Zagorski is choosing the tunes
18th September 2019 – Lee Baldwin took the win last week and Ed Butler picked the tunes
11th September 2019 – Jeannette G took both the Hive Mind badge and the chance to pick the words !
4th September 2019 – #owwb takes a holiday!
28th August 2019 – A certain 7ft Metalhead took the win and Michael Davies is picking the #owwb words !
21st August 2019 – Steve and Ethan Sweet took the win and picked up the Hive Mind patch and Mags is picking the tunes
14th August 2019 – Dom took the win and Neil Ruddick was picking the tunes
7th August 2019 – Ali Cannon scooped the badge and Tim Shaw was picking the tunes
31st July 2019 – Mental Jargen took the win to add another patch to his mankini and Paul Lane is picking the tunes and words for you.
24th July 2019 – Paul & Angie Lane picked up the win and Kevin Poutney picked the words
17th July 2019 – Steve May picked up the Hive Mind Badge and John Knight picked the words
10th July 2019 – Andy the 7ft Metalhead picked up another win and Andy Best is chose the words this week
3rd July 2019 – Mental jargon won the badge and Paul Crisford picked the words
19th June 2019 – Alan Barnett chose the words after Steve May took the win (5th June)
12th June 2019 – Download Festival 2019 Special !
5th June 2019 – Paul Netcott toppled Andy the 7ft Metalhead and Scott Harris picked the words
29th May 2019 – Andy won again ! and Accountant Neil picked the words
22nd May 2019 -Yep, Andy teh 7ft Metahead won again and Mark Sheehan picked the words
15th May 2019 – Andy the 7ft Metalhead won again ! and James Sutcliffe picked the words
8th May 2019 – Andy the 7ft Metalhead won the Hive Mind Badge and Terry Pitt picked the words
1st May 2019 – Mental Jargon added another #owwb Hive Mind badge to his collection and Anthony Hockaday chose the 12 words
24th April 2019 – Steve May picked up the Hive Mind Badge and Jonathon chose the words
17th April 2019 – Mark Edge won the Hive Mind Badge and Mr Will Daniels picked the words
10th April 2019 – Mental Jargon won the Badge and Blunty Senior picked the words
3rd April 2019 – Geoff Beardswell won the hive Mind badge last week and Rob Beardsley is picking the music
27th March 2019 – Andrew Collingwood won last weeks Hive Mind Achievement Badge and John Knight was picked to choose the words
21st March 2019 – Mental Jargon won the Hive Mind badge and Cat Wright is picking the words this week
13th March 2019 Mark Broadbent won the Hive Mind badge last week Paul Peasegood was chosen to select the words….
6th March 2019 – Steve May won the Hive Mind badge (again!) and Big Phil is picking the words
27th February 2019 – Steve May takes the win for the Hive Mind Badge and Andy the 7ft MetalHead got to pick the words